Qatar: 'shameful' migrant worker abuse will cast shadow over athletics championships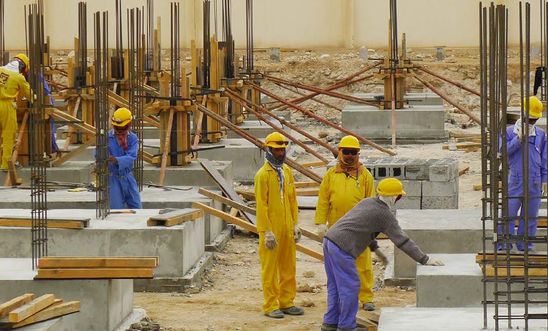 Migrant construction workers in Doha © Amnesty International
Many events to be held in Khalifa Stadium, where workers were 'ruthlessly and systematically exploited'
'Migrant workers in Qatar are still largely at the mercy of unscrupulous employers' - Allan Hogarth
The plight of migrant workers who continue to be abused and exploited while working in Qatar will cast a shadow over the IAAF World Athletics Championships, Amnesty International said ahead of the showpiece sporting event which starts tomorrow.
The Doha 2019 competition, which runs from 27 September to 6 October, follows a report from Amnesty showing how thousands of migrant workers in the country are still being exploited and denied their right despite repeated promises from the authorities to improve workers' rights ahead of the 2022 World Cup.
In the 52-page report - All work, no pay: The struggle of Qatar's migrant workers for justice - Amnesty showed how several hundred migrant workers employed by just three construction and cleaning companies were forced to return to their home countries penniless because of serious failings in recently-introduced dispute settlement schemes.
Many of the athletics events at Doha will be held in the Khalifa Stadium. Previous Amnesty research has highlighted the systematic exploitation of migrant workers during the stadium's construction.
Allan Hogarth, Amnesty International UK's Head of Policy and Government Affairs, said:
"We're not against the World Athletics Championship being staged in Doha, but Qatar's shameful record over the exploitation of migrant workers in the country mustn't be airbrushed out of the picture either. 

"Only last week, we published fresh evidence showing how hundreds of unpaid overseas workers from just three companies had been left destitute, needing food aid to survive. 

"Many of the athletics events will be held in the Khalifa Stadium, built by migrant construction workers who were ruthlessly and systematically exploited.

"It's true the Qatari Government has announced labour reforms and we've welcomed these, but the fact is that migrant workers in Qatar are still largely at the mercy of unscrupulous employers.

"As with other sporting figures who compete in Qatar, we would call on individual athletes to familiarise themselves with the human rights situation and be prepared to speak out about them.

"We wish all the Great Britain squad well in Doha - but we also went to see an end to the appalling mistreatment of Qatar's migrant workers."