Qatar: new appeal for release of man jailed for 15 years for reciting a poem
'It is tragic and absurd that Mohammed al-'Ajami has been languishing in prison for nearly four years' - James Lynch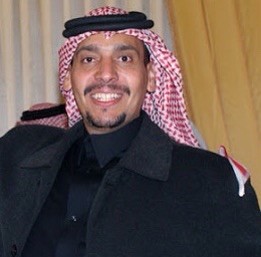 Amnesty International has published a
new appeal
 for the release of the jailed Qatari poet Mohammed al-'Ajami in the run-up to the fourth anniversary of the prisoner of conscience's detention.
Al-'Ajami is serving a 15-year jail sentence for writing and reciting a poem deemed to have insulted the Emir of Qatar, Sheikh Hamad bin Khalifa al-Thani.
In 2010 Al-'Ajami was in Egypt studying Arabic literature at Cairo University when on 24 August he recited a poem ("The Cairo Poem") in his flat to a group of people. His recital, given in response to a poem recited by another person present in the flat, was recorded without his knowledge and uploaded to YouTube where it was widely circulated online.
More than a year later, on 16 November 2011, agents from Qatar's State Security arrested Al-'Ajami when he was back in Qatar, with the authorities alleging that his recital of the poem was insulting to the Emir. He was charged with "publicly inciting to overthrow the ruling system", "publicly challenging the authority of the Emir" and "publicly slandering the person of the Crown Prince" by composing "The Cairo Poem" and reciting it at public gatherings. 
Despite the poem actually referring to the Emir as "a good man" and expressing "thanks" to him, Al-'Ajami was found guilty and sentenced to life imprisonment on 29 November 2012, which an appeals court later reduced to 15 years. The following year, on 20 October 2013, Qatar's Court of Cassation upheld the verdict and the 15-year sentence, and the poet remains behind bars.   
Amnesty considers Al-'Ajami a prisoner of conscience, held solely for peacefully exercising his right to freedom of expression, and the organisation is calling for his immediate and unconditional release and for his conviction to be quashed. 
Amnesty International's Middle East and North Africa Deputy Director James Lynch said:
"It is tragic and absurd that Mohammed al-'Ajami has been languishing in prison for nearly four years simply for reciting a poem that did not incite any violence.

 

"His arbitrary imprisonment and ludicrous 15-year sentence are the shameful result of the Qatari authorities' inability to tolerate criticism and their disregard for the right to freedom of expression.

 

"Qatar is keen to portray an image internationally as a country that respects human rights and embraces the arts. Every day that Mohammed al-'Ajami remains behind bars, that claim becomes more hollow."