Qatar: letter to FIFA boss calls for 'urgent and concrete action' on workers' rights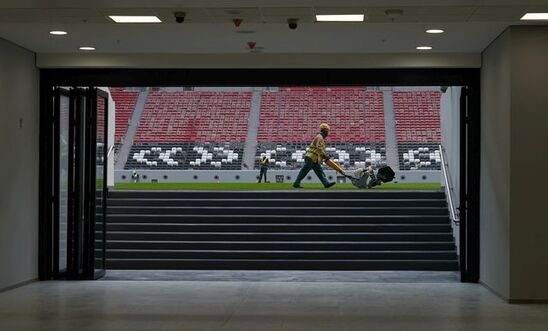 The opening ceremony of the 2022 World Cup will take place at Al Bayt Stadium © Etsuo Hara/Getty Images
Four-page letter to Gianni Infantino comes ahead of World Cup qualifiers this week
FIFA reminded of responsibilities under global business and human rights standards
'FIFA has an opportunity to help leave Qatar a better place for migrant workers' - Steve Cockburn
Ahead of qualification matches for the 2022 Qatar World Cup this week, Amnesty International has written to football's world governing body FIFA calling on it to use its leverage with the Qatari authorities to help end the abuse of migrant workers in the country.
In a detailed four-page letter to FIFA President Gianni Infantino, Amnesty has called on the football body to take "urgent and concrete action" and "use the full extent of its influence" to urge Qatar to fulfil a programme of labour reforms before the World Cup kicks off at the end of next year.
Amnesty's letter says that FIFA "has a responsibility to ensure human rights are respected in the context of preparing for and carrying out the tournament", noting that without the two million migrants "building the stadiums, the roads, and the metro", Qatar's hosting of the competition would not have been possible. 
"When the tournament kicks off", continues Amnesty's letter, migrant workers "will be taking care of players, fans and officials in hotels, serving them in restaurants, transporting them around and providing security for venues". "Everyone who visits Qatar to watch or participate in the World Cup will almost certainly by looked after by migrant workers along the way."
Qatar has made a number of positive reforms in recent years, partly in response to increased scrutiny after the World Cup contract was awarded. But Amnesty's research has shown that reforms are often not properly implemented, and thousands of migrant workers are still exploited and abused. Recently, Qatar's advisory body - the Shura Council - made recommendations which if accepted by the authorities would undo many of the reforms, including by re-imposing restrictions on workers' rights to change jobs or leave the country.
Steve Cockburn, Head of Economic and Social Justice at Amnesty International, said:  
"As the World Cup organising body, FIFA has a responsibility under international standards to mitigate human rights risks arising from the tournament. This includes risks to workers in industries like hospitality and transport, which have expanded massively to facilitate the delivery of the games. 

"This week's qualifiers are a reminder that the window for FIFA to influence Qatar is closing - it must act now to ensure that the 2022 World Cup is a tournament to be proud of, and not one tainted by labour abuses.

"FIFA must use its voice to urge Qatar to urgently implement and enforce existing reforms, and to reject proposals to strip workers of their newly gained rights. 

"FIFA and Qatar must put in place a robust plan of action to ensure that migrant workers across all sectors associated with the World Cup have been paid properly, treated fairly, and are free from the control of exploitative employers.

"FIFA has an opportunity to help leave Qatar a better place for migrant workers, but the clock is ticking."
FIFA's responsibilities
Amnesty's letter to FIFA is the latest reminder to football's world body that it is required to live up to its international human rights responsibilities. Amnesty acknowledges the steps taken by FIFA in recent years to live up to these responsibilities, including establishing its 2017 Human Rights Policy and a joint FIFA World Cup Qatar 2022 Sustainability Strategy in 2019. 
However, under the UN Guiding Principles on Business and Human Rights, FIFA must ensure human rights are respected in the organisation and delivery of the World Cup, including by carrying out its own independent and regular monitoring of World Cup projects and venues, and conducting due diligence to identify and prevent any human rights abuses associated with the tournament. Crucially, FIFA also has a responsibility to ensure that all harms suffered by workers on World Cup-related projects to date are properly remedied, in cooperation with the Qatari authorities and other relevant stakeholders.
'Legacy of world class standards'
FIFA has pledged to leave "a legacy of world class standards and practices for workers in Qatar and internationally", but the continued prevalence of serious abuses in Qatar brings this aspiration into question. Last year, for example, FIFA told Amnesty that the "day-to-day due diligence" of construction workers' rights is carried out by the Supreme Committee, the government body overseeing the Qatar World Cup. This hands-off approach was shown to be deeply insufficient when Amnesty found that construction workers on the £660m Al Bayt Stadium had worked for up to seven months without pay. The Supreme Committee had known about this for nearly a year, but FIFA admitted it was unaware of this, demonstrating that FIFA needs to be much more diligent in independently monitoring World Cup sites.
Downloads