Press freedom event dedicated to Lyra McKee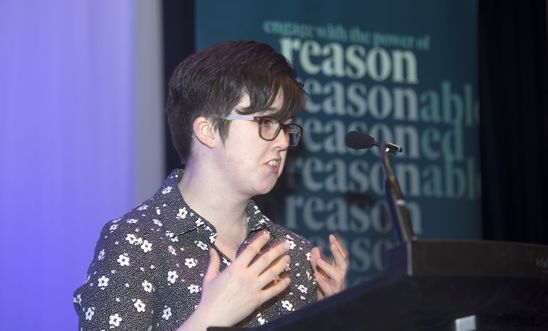 Lyra McKee © Copyright © Kevin Cooper Photoline NUJ
Lyra McKee was due to speak at the Amnesty International and Queen's Film Theatre World Press Freedom Day event
Amnesty International and the Queen's Film Theatre have announced that an event in Belfast to mark World Press Freedom Day is to go ahead this Saturday and will be dedicated to journalist Lyra McKee.
Lyra McKee was due to speak on a panel discussion about the dangers facing journalists but was killed while reporting on public disorder in Derry on 18 April.
The World Press Freedom Day event will go ahead in honour of Lyra, and will include a screening of 'A Private War', a film about war correspondents Marie Colvin and Paul Conroy.
Suzanne Breen, political editor of the Belfast Telegraph and a good friend of Lyra McKee, will now join photojournalist Kevin Cooper and Amnesty International's Patrick Corrigan for the panel.
Patrick Corrigan, Amnesty International's Northern Ireland Programme Director of Amnesty International, said:
"We are all feeling the pain at the death of Lyra McKee. We know she would have wanted this event to go ahead.

"Lyra's death at the hands of republican paramilitaries is a reminder of the risks that reporters face every day around the world, including here in Northern Ireland.

"This event will address the threat to journalists globally, but we will also discuss Lyra and her work, the 2001 killing by loyalist paramilitaries of Sunday World reporter Martin O'Hagan, and the current arrests of journalists Barry McCaffrey and Trevor Birney after their film about the Loughinisland massacre.

"Press freedom is the cornerstone of a rights respecting society and we must guard it closely."
The special screening of 'A Private War' and a follow-up discussion will take place on Saturday 4 May at 3:20pm. Tickets via the QFT box office.