Poland: Government attacks against judges threaten rule of law – new report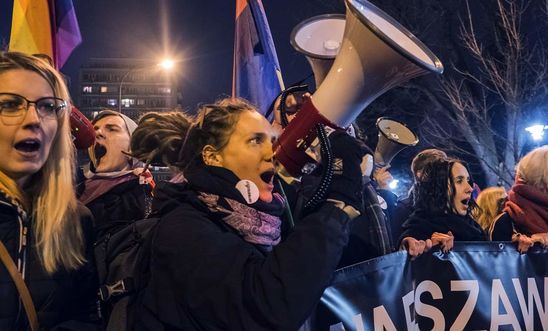 Women take part in a protest in Poland © Grzegorz Żukowski/Amnesty International
'Witch hunt' tactics used by Polish authorities to intimidate and smear judges
Judges subjected to years of intimidation and online harassment
Judges working to protect the independence of the Polish judiciary from government interference are being subjected to serious harassment online and at work, a new report by Amnesty International has revealed.
The new report, 'Poland: Free Courts, Free People', shows how since late 2015, the government has adopted and implemented legislative and policy measures to undermine the independence of the judiciary.
These measures include politicising judicial appointments, giving the Minister of Justice exclusive power to dismiss and appoint Presidents and Vice-Presidents of Courts, and forcing Supreme Court judges to retire.
The government has also weaponised disciplinary proceedings, using them against judges who have spoken out against the 'reforms' and placing some of them at risk of losing their jobs.
The erosion of judicial independence has had real life consequences for judges who have taken a stand against the government. Some judges have been harassed on social media, received hate mail, abusive and threatening text messages. One judge was the subject of a smear campaign on national television.
Amnesty also spoke with judges who suffered abuse after issuing rulings that upheld the rights of peaceful protesters.
Barbora Černušáková, Amnesty International's Regional Researcher, said:
"The Polish authorities have conducted a witch hunt, working behind the scenes to intimidate and smear the Polish judges and prosecutors who have courageously protested against the political hijacking of the judiciary. This harassment has to stop immediately.

 "Judges should be able to uphold the law without political interference. The government of Poland must immediately drop any ongoing disciplinary proceedings against judges and prosecutors for their legitimate rulings and lawful protests, and cease from using disciplinary measures to exert control over the judiciary in the future".

"The rule of law and protection of human rights are the founding principles of the EU. Other EU member states must continue to call on Poland to halt its blatant breach of these principles and hold the government accountable if it continues do so."
Background
In a landmark decision on 24 June, the Court of Justice of the European Union (CJEU) held that changes to Poland's Supreme Court law – designed to oust one third of its judges - violated EU law. The amendment of the Law on the Supreme Court was part of a broader "reform" of the judiciary in Poland.
In 2017, Amnesty warned that these "reforms" effectively politicise the judiciary and undermine its independence.