Philippines: 'still a total lottery' whether detainees avoid torture in police custody - new report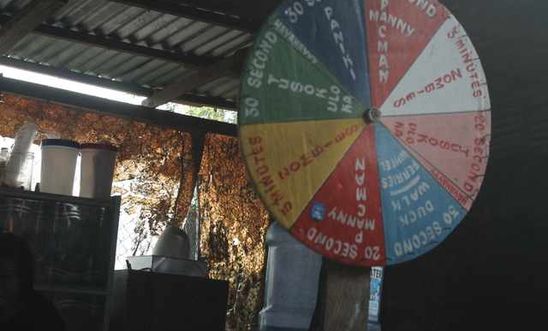 Discovery of torture 'roulette wheel' earlier this year thrust issue of police torture into the headlines © Philippines Commission on Human Rights
'Roulette wheel' case just one of hundreds where no-one has been brought to justice
New report lists dozens of cases, including waterboarding of a teenager and 'penis-pulling' abuse of man apparently then murdered in custody 
Whether detainees in police custody in the Philippines avoid being tortured is "still a total lottery", said Amnesty International today (4 December), nearly a year after the discovery of a torture "roulette wheel" being used by police officers to mete out abuse to dozens of detainees. 
In January, human rights investigators discovered a secret detention facility in Laguna, a province south of the capital Manila, in which police officers appeared to be torturing 43 detainees for entertainment. The facility contained a large roulette wheel with descriptions of various torture positions. For example, if the wheel landed on "20-second Manny Pacquiao" it meant a detainee would be punched non-stop for 20 seconds, while "30-second bat position" meant being hung upside down for 30 seconds. 
In a new 120-page report - Above the Law: Police Torture in the Philippines - based on in-depth research including more than 50 chilling testimonies from those tortured, Amnesty exposes how a pervasive culture of impunity in the Philippines is allowing torture by the police to go unchecked. Police officers in the country regularly subject detainees to electric shocks, mock executions, waterboarding, partial asphyxiation with plastic bags, beatings and rape - as a means to extract confessions or to extort money from those abused. The report also documents a number of attempted extrajudicial executions, with two survivors telling Amnesty they were shot and left for dead. Twenty-one of the people interviewed by Amnesty for the report were children when they were subjected to torture and other ill-treatment.
Despite introducing a new anti-torture law five years ago, no police officers or other officials in the Philippines have been convicted for acts of torture since the law change. Likewise, since the establishment of the Philippines' Commission on Human Rights in 2001, the commission has received 457 reports of torture or ill-treatment yet not one of those cases has resulted in a criminal conviction. 
Amnesty International UK Stop Torture Campaign Manager Tom Davies said: 
"The world was startled and horrified by the discovery of that torture 'roulette wheel' back in January but whether you avoid torture in police custody in the Philippines is still a total lottery.

 

"Our report contains distressing case after distressing case of terrible abuse of those held by the police in the Philippines.

 

"A common misconception about torture is that it's rare and only used against terrorism suspects, but the grim reality of the Philippines is more typical - people young and old tortured by the police over alleged robberies, tortured for money or just tortured for 'fun'."
'Ambrosio': waterboarded with his cousin
In 2012, Ambrosio (not his real name), 17, was arrested with his cousin in Cabanatuan City, north of Manila, accused of robbery. Ambrosio told Amnesty that at the police station police hurled him and his cousin into a corner, kicked them and beat them with a stick. Police officers reportedly ordered Ambrosio and his cousin to kiss each other - and when they refused the officers hit them again. They were also made to lie on a bench, with their hands handcuffed behind their backs while police officers placed a towel over their face and poured water over them in what appears to have been waterboarding torture. After this, Ambrosio says the officers gave them electric shocks on the soles of their feet The torture only stopped the next day when Ambrosio and his cousin were presented to the media at the police station. "I covered my face", says Ambrosio. "They were asking if we were the ones who committed the robbery but I refused to answer. While I was being interviewed by the media, a policeman took my cousin inside. He was barely able to speak after all the shocks and torture."
Darius Evangelista: penis torture and severed head in Manila Bay 
In 2010, police officers arrested Darius Evangelista, a porter in Manila, on suspicion of robbery. The officers reportedly took him to a room in the Binondo Police Station in Tondo, Manila, from which his fellow detainees heard Darius moaning in pain. Detainees said they later saw him being carried out with packing tape around his eyes, before being taken into a senior police officer's room. When Darius was later brought out of this room detainees heard a senior police officer say "finish him off". Darius was never seen alive again. Five months later, a harrowing video - apparently shot on a mobile phone - was broadcast on television showing Darius lying naked on the floor, screaming and writhing in pain while a seated man in a white shirt holds a string attached to Darius' penis, forcefully and repeatedly pulling it. Others, including uniformed police officers, are visible watching this take place. 
Meanwhile, three days after Darius' arrest, his father received reports that a decapitated head was seen floating in Manila Bay. Both Darius' father and Darius' wife recognised their relative when they went to identify the head at a police station, with Darius' wife counting three gunshot wounds to the head. Police told Darius' wife that the recovered head would undergo DNA testing but subsequent delays in conducting tests have led to a protracted - and still unresolved - dispute over the identification process. At least seven police officers have been implicated in Darius' case, though more than four years after his original arrest - and almost three years after a prosecution case against police officer began - the court case into his torture and apparent murder is still ongoing.
Police corruption
In the Philippines few people dare to complain at police mistreatment, knowing they risk retribution if they do so - either from police officers themselves or from hired thugs. For example, Rowelito Almeda, 45, was detained, beaten and repeatedly subjected to electric shocks during a five-day ordeal at the "roulette wheel" detention facility in Laguna. After he spoke to the country's human rights commission about the abuse, police approached his cousin offering him money to kill Rowelito. Public trust in the police in the country is currently at a low ebb, with a recent Transparency International survey finding that 69% of people in the Philippines believe the police are corrupt.