Philippines: Government must probe police abuses after Duterte's 'kill everybody' outburst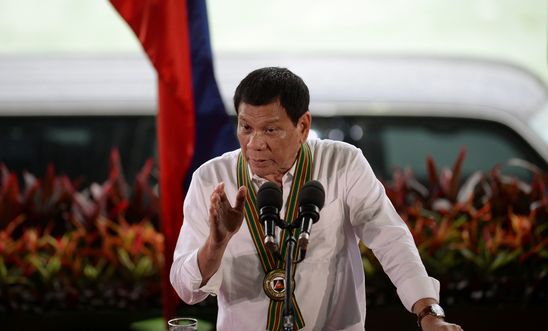 Amnesty International has renewed its call for an end to the Philippines' notorious 'war on drugs' after President Rodrigo Duterte told a controversial newly-promoted police officer to "kill everybody".
During a speech at a business conference in Manila yesterday, President Duterte told Lieutenant Colonel Jovie Espenido, now Bacolod City's deputy director for operations, that he is "free to kill everybody" in the city that is "badly hit" by illegal drugs.
Duterte said: "Bacolod is badly hit (by illegal drugs) now. I placed Espenido there. I said, go there, you are free to kill everybody. Start killing there. The two of us can go to jail."
During Espenido's stint as police chief in the city of Albuera in 2016, then mayor Rolando Espinosa Sr was killed in his cell by police officers. In 2017, Espenido was transferred to the city of Ozamiz where then mayor Reynaldo Parojinog, and more than a dozen others allegedly linked to the drug trade, were also killed in a series of police raids.
Butch Olano, Amnesty International Philippines Director, said:
"Duterte's blatant and continued incitement to kill has only resulted in thousands of extrajudicial executions and other human rights violations.

"This encouragement of bloodshed must end once and for all, and efforts toward this must begin at the highest levels of government, notably the President himself.

"Lieutenant Colonel Jovie Espenido should not have been promoted and appointed to a senior position in the first place, given his involvement in bloody operations in the past. Others like him have also been transferred and promoted, instead of being held accountable for the thousands of killings in the government's 'war on drugs'.

"Instead of such threatening pronouncements, the government must initiate credible and effective investigations into police abuses, including allegations of their involvement in the illegal drug trade.

"We reiterate that an important first step to ending this cycle of violence and impunity is to direct the police to stop the killings and bring to justice those found to be involved in previous abusive operations."
Crimes against humanity
Thousands of people have been killed in a wave of state-sanctioned violence since the start of President Duterte's presidency in 2016.
In July, Amnesty published a report, "They just kill": Ongoing extrajudicial executions and other human rights violations in the Philippines 'war on drugs', which documented how police commanders who previously supervised abusive operations in Manila were later transferred to Central Luzon and have continued to oversee a brutal killings campaign in the province. Amnesty considers that the killings reach the threshold of crimes against humanity.