Peru: lethal state violence against protesters is disproportionately targeting indigenous communities – new research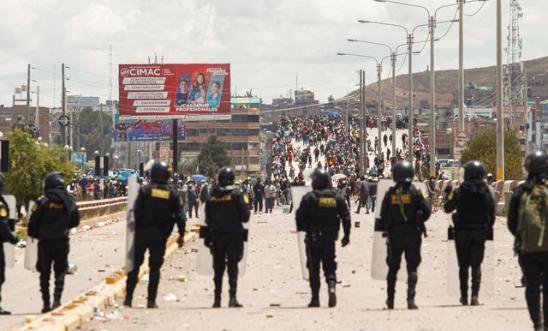 Police forces in the Peruvian Andean city of Juliaca, on January 7, 2023 © © AFP/Getty Images
Mass protests continue to sweep country
Indigenous communities make up 80% of registered deaths since crisis began
"Systemic racism has been the driving force behind the violence" - Erika Guevara-Rosas
New research from Amnesty International has found that Indigenous people and campesinos (rural farmworkers) have been disproportionately targeted by military forces and the National Police of Peru (PNP) in the repression of protests across the country which began in December 2022.
While the regions with majority Indigenous populations represent only 13% of Peru's total population, they account for 80% of the total deaths registered since the crisis began. Evidence suggests that the authorities have acted with a marked racist bias, targeting populations that have historically been discriminated against.
The Army and the PNP have unlawfully fired lethal weapons indiscriminately against the population.
Amnesty International's Americas director, Erika Guevara-Rosas, said:
"With a total of 48 people dead from state repression, 11 deaths from road blockades and one policeman killed, as well as hundreds injured in a tragic period of state violence, the Peruvian authorities have allowed the excessive and lethal use of force to be the government's only response to the clamor of thousands of communities who demand dignity and a political system that guarantees their human rights.

"The systemic racism ingrained in Peruvian society and its authorities for decades has been the driving force behind the violence used to punish communities that have raised their voices."
Violence against Indigenous peoples
Social unrest first emerged from several of Peru's most marginalised regions, such as Apurímac, Ayacucho and Puno, whose mostly Indigenous populations have historically suffered from discrimination, unequal access to political participation and an ongoing struggle to access basic rights to health, housing and education. Protests soon spread to the capital, Lima, and other parts of the country.
Amnesty conducted an analysis based on data from the Peruvian Ombudsman's Office, using the concentration of protests and the number of deaths due to repression as parameters.  It has found that the number of possible arbitrary deaths due to state repression is disproportionately concentrated in regions with largely Indigenous populations.
As part of the research, Amnesty's Crisis Evidence Lab verified 36 pieces of photographic and video material, of which at least 11 point to excessive and sometimes indiscriminate use of lethal and potentially lethal force by the authorities.
Amnesty has warned that Peruvian authorities are maintaining a discourse of stigmatisation against those who demonstrate to delegitimise their demands and justify the use of violence.
Unlawful use of firearms
International human rights standards prohibit the use of firearms with lethal ammunition to control demonstrations.
Despite this, information gathered by Amnesty suggests that in multiple cases the police and army resorted to this as one of their primary methods of dispersing demonstrations, even when there was no apparent risk to the lives of others. 
The protests were mostly peaceful but there were certain instances of targeted violence by some demonstrators, including launching stones with homemade slingshots and fireworks.
However, the available evidence indicates that the police and army fired bullets indiscriminately and in some cases at specific targets, killing or injuring bystanders, protesters and those providing first aid to injured people.
Since protests began, more than 1,200 people have been injured in the context of protests, according to figures from the Ministry of Health. 
Through image analysis, Amnesty International also identified numerous injuries from pellet rounds. This imprecise ammunition, which releases several projectiles with every shot, is not suitable for control of demonstrations.
Evidence indicates that the heavy use of lethal munitions, such as tear gas – which can be lethal when used improperly or fired directly at a person – has caused dozens of injuries and the death of one person who was hit in the head by a gas cannister.
Amnesty is calling on interim President Dina Boluarte and the state authorities to put an end to the repression, address the legitimate demands of those protesting, and ensure that the state fulfills its obligation to investigate all human rights violations committed by the security forces and bring to justice those found responsible.
For more on this story and a link to Amnesty's full recommendations, see here.