Paul Mason in conversation with Syria authors Molly Crabapple and Marwan Hisham - London event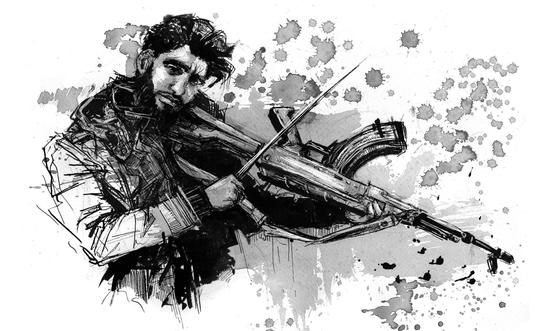 One of the book's illustration © Molly Crabapple
Co-authors of 'Brothers of the Gun: A Memoir of the Syrian War' will discuss new book
LONDON, TUESDAY 29 MAY 2018
Amnesty International UK is hosting an event on Tuesday 29 May with Molly Crabapple and Marwan Hisham - co-authors of a major new book on Syria, Brothers of the Gun: A Memoir of the Syrian War.
Brothers of the Gun is Hisham's first-hand account of how three young Syrian friends - Hisham himself, plus fellow college students Nael and Tareq - exhilaratedly joined some of Syria's earliest pro-democracy protests in 2011, before being swept up by the repression and years of conflict that followed.
Examining issues of friendship, freedom and belonging, the book also features more than 80 ink drawings by Molly Crabapple, an artist and writer from New York who has previously drawn in Guantánamo Bay and in migrant worker camps in Abu Dhabi. Some of the book's powerful illustrations will also be exhibited at the Amnesty event. 
The pair will be in conversation with the acclaimed journalist and author Paul Mason (Why It's Kicking Off Everywhere), with Molly Crabapple appearing in person at Amnesty UK's east London headquarters and Marwan Hisham appearing by video link.
There will be an opportunity to purchase copies of Brothers of the Gun at the event. 
DETAILS
What: an in-conversation event with exhibition, followed by informal drinks reception
Where: Human Rights Action Centre, Amnesty International United Kingdom Section, 17-25 New Inn Yard, London EC2A 3EA (Shoreditch)
When: Tuesday 29 May 2018, 7pm (doors open at 6pm)
Cost: free - though please reserve a place here.