Pakistan: Detained Pashtun human rights defender must be released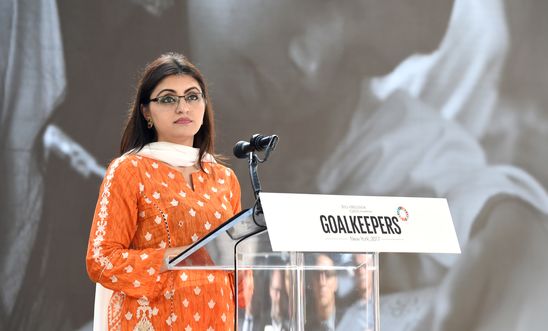 © Jamie McCarthy / Getty Images
Pakistan's authorities must immediately and unconditionally release Gulalai Ismail, a Pashtun human rights defender, who was detained on her arrival at Islamabad airport today, Amnesty International said.
Gulalai Ismail is a supporter of the non-violent Pashtun Tahaffuz Movement (PTM), which has been campaigning in Pakistan against enforced disappearances, extrajudicial executions and discrimination against the country's Pashtun ethnic minority.
Rabia Mehmood, South Asia Researcher at Amnesty International, said:
"Gulalai Ismail must be immediately and unconditionally released. There is no justification whatsoever for her detention or for imposing a travel ban on her. She is being detained solely for her peaceful human rights work.

"This is an extremely worrying move. The new government of Prime Minister Imran Khan had said it would protect human rights and engage with members of the PTM to address issues such as enforced disappearances and extrajudicial executions.

"Gulalai Ismail's arrest severely tests those commitments. Instead of trying to silence human rights defenders, the new government must work to create a safe and enabling environment for those who raise their voices for justice."
Gulalai Ismail, who is the founder of the Seeds of Peace network, was detained at Islamabad Airport on her return from London. Upon her arrival, she was informed that her name had been placed on the 'Exit Control List', which imposes a ban on her from travelling outside the country.
Over the past year, Pakistan authorities have banned peaceful rallies organised by the PTM, while some of its leading members have been arbitrarily detained and prevented from traveling within the country. Some members have also faced a series of charges for alleged sedition and cybercrimes.
Gulalai Ismail was one of 19 people named in a police complaint report for organising and speaking at a PTM rally in the northwest town of Swabi on 12 August. The charges against PTM activists include "unlawful assembly", "punishment for rioting" and "punishment for wrongful restraint".
Gulalai Ismail issued a WhatsApp audio message to friends and supporters from the offices of Pakistan's Federal Investigative Agency (FIA), where she said she was about to be arrested.
In the message, she said: "I was taken into custody at the airport. I was brought to the main branch of the FIA, where the police is coming to arrest me for speaking for making speech for PTM in the Swabi [rally].

"This is not an attack on Gulalai Ismail, or PTM. This is an attack on civic freedoms. This is an attack on our liberty to speak out. This is an attack on our freedom of speech."