Obama's Saudi Arabia visit musn't overlook human rights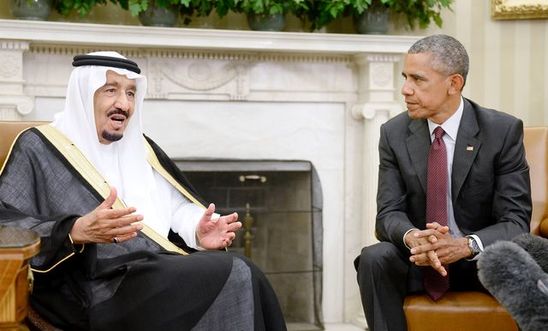 Barack Obama's visit comes after more than a year of bloody conflict in Yemen © Olivier Douliery-Pool/Getty Images
Open letter to US president names over 40 prisoners of conscience in Saudi Arabia, Bahrain, UAE, Kuwait and Oman
As the US President Barack Obama begins a visit to Saudi Arabia today, Amnesty International is urging him not to turn his back on victims of repression and human rights violations across the Gulf states.
In an
open letter
published ahead of Mr Obama's meeting with King Salman bin Abdulaziz al Saud today and with leaders of the Gulf Cooperation Council tomorrow, Amnesty has called on President Obama to ensure human rights abuses are not ignored.
The letter names more than 40 prisoners of conscience in Bahrain, Kuwait, Oman, Saudi Arabia and the United Arab Emirates who are currently behind bars solely for peacefully exercising their right to freedom of expression.
The visit also throws a spotlight on the USA's own role in the recent conflict in Yemen, in which more than 3,000 civilians have been killed and more than 2.8 million people displaced.
Amnesty International Middle East and North Africa Deputy Director James Lynch said:
"President Obama's trip offers a crucial opportunity for him to demonstrate a principled commitment to human rights and prove to the world that the US government will not sacrifice human rights in favour of US geopolitical and business interests.

 

"Across the region, scores of political activists and human rights defenders have faced harassment, intimidation and unjust imprisonment.

 

"For the past year, the USA has stoked the flames of the conflict in Yemen by continuing to supply weapons to Saudi Arabia despite strong evidence that the military coalition it is leading has committed widespread violations including possible war crimes. 

 

"Instead of pushing to secure further lucrative arms deals, the Obama administration should suspend all transfers of arms for use in Yemen and push for an international investigation into alleged war crimes committed by all parties to the conflict."