Obama's refugee summit still leaves millions staring into the abyss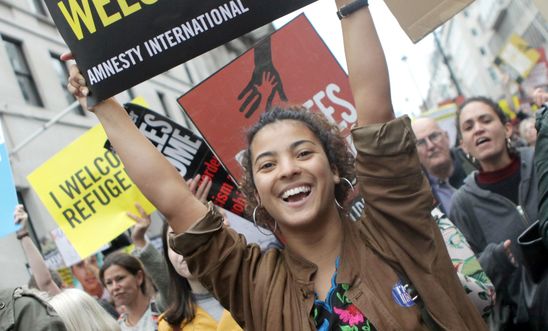 People from around the UK have called for more support for refugees © Marie-Anne Ventoura
Theresa May's 'not in my back yard' approach strongly criticised 
The outcome of President Obama's Leaders' Summit on Refugees in New York marks a small step forward but falls far short of what is needed to address the global refugee crisis, said Amnesty International today.
Leaders at the summit increased commitments on resettlement, humanitarian funding, refugee education and access to work. The pledges - which pale in comparison to what is needed - come after the UN Summit for Refugees and Migrants ended in abject failure earlier this week.
Amnesty International's Secretary General Salil Shetty said: 
"This week's summits only served to expose the leadership crisis. With few exceptions, many world leaders failed to rise to the occasion, making commitments that still leave millions of refugees staring into the abyss.

 

"Wealthy countries cannot only commit money and walk away. The 360,000 resettlement places offered globally need to be seen in the context of more than 20 million refugees worldwide, with half of them in just ten countries. And those countries that are amongst the world's worst abusers of refugee rights, such as Australia and EU states, cannot be allowed to tout small offers of help as a generous response to the crisis."
UK's 'not in my backyard' approach sends terrible message to other leaders
Meanwhile, the UK Prime Minister Theresa May did not make any new resettlement pledges, but pledged an increase of more than 10% on last year in financial support for refugees and an initial $3.25million contribution to the UN and IOM emerging countries resettlement fund. 
Amnesty International UK's Refugee Programme Director Steve Symonds said:
"This new funding is welcome, but the problem remains the UK's 'not in my back yard' approach to this global crisis and the terrible message it sends to others.

 

"If the UK continues to refuse to take responsibility for hosting its fair share of refugees, it is even more likely that these welcome, but limited commitments, will not be met. 

 

"It is vital the UK - one of the world's richest countries - takes a stand on respect for the right to asylum and opens up safe and legal routes for refugees through resettlement and increased family reunion. Without that, no amount of money is going to make the difference Theresa May claims it will."