Northern Ireland: 'Vindication' as Hooded Men win Court of Appeal challenge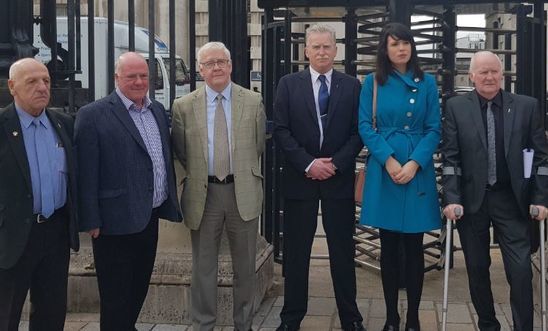 Francis McGuigan (third from left), with Grainne Teggart and other Hooded Men outside the Court of Appeal © Amnesty International
The Court of Appeal in Belfast today ruled that an investigation into criminal acts committed during the interrogation of the 'Hooded Men' in Northern Ireland in 1971 should proceed.
Grainne Teggart, Amnesty International's Northern Ireland Campaigns Manager, said: 
"Today's ruling is vindication for the Hooded Men's fight for justice, and offers hope for torture victims around the world.

"Significantly, the Court of Appeal has today upheld that the men's treatment amounted to torture.

"No victim should have to wait nearly 50 years for justice. We must now urgently see an independent, human rights compliant investigation into their torture which was authorised at the highest levels of the UK government.

"Those responsible for sanctioning and carrying out their torture, at all levels, must be held accountable and, where possible, prosecuted."
The case involves the torture and ill-treatment of the 14 Hooded Men who were interned in Northern Ireland in 1971. At the time, Amnesty International documented the torture of the men by the Royal Ulster Constabulary and the British Army, which included hooding, stress positions, white noise, sleep deprivation, deprivation of food and water, as well as physical assaults and death threats.
Francis McGuigan – one of the 'Hooded Men' – said:
"The High Court was right when it said there should be an investigation to identify and hold to account those Ministers, MOD and RUC officers who were responsible for authorising and carrying out torture on us. 

"I am pleased that the Court of Appeal has decided to uphold the ruling. An investigation must be fully independent and must get underway without any further delay. After waiting for justice for nearly five decades, the time for accountability is long overdue."
The appeal was brought by the Chief Constable of the Police Service of Northern Ireland and involves the Secretary of State for Northern Ireland and the Department of Justice. The High Court in Belfast previously ruled that the force's decision to end its investigation into the case in 2014 was "seriously flawed", that a "completely fresh decision process should begin", and that the Police Service of Northern Ireland must investigate the unlawful treatment of the men.
Amnesty is an intervener in the case, which is the organisation's first intervention in a legacy court case in Northern Ireland. Amnesty has backed the men's campaign for justice for decades. The ruling sets an important precedent for the investigation of serious human rights violations in this jurisdiction.