Northern Ireland: MPs step up pressure on Prime Minister for marriage equality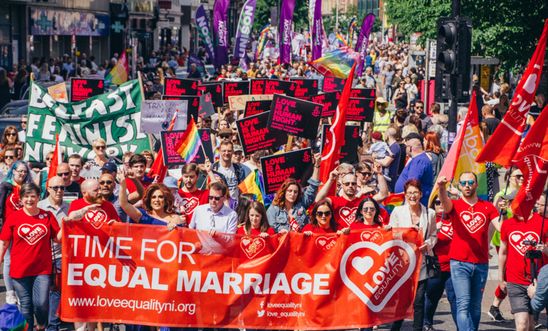 Prime Minister Theresa May has come under renewed pressure today to legislate for same-sex marriage in Northern Ireland.
A cross-party group of MPs have published a letter in The Times newspaper today calling for the Government to adopt Conor McGinn's Private Member's Bill which would introduce equal marriage in Northern Ireland.
A backbench bill to legalise same-sex weddings is waiting to return to the House of Commons, having been blocked by a single objection last month from Sir Christopher Chope, a Conservative MP who used the same tactic a week ago to block a bill to criminalise 'upskirting'.
The Prime Minister subsequently agreed to bring forward a Government bill to outlaw the practice, with the 'upskirting' bill being formally introduced in parliament yesterday.
In a letter published in The Times today, a cross-party group of MPs urge the Prime Minister to take similar action to end discrimination against LGBT+ couples in Northern Ireland, the only part of the UK or Ireland where same-sex couples are unable to marry.
The MPs – drawn from Labour, Conservative, Liberal Democrat and Green Party benches – are all sponsors of the Northern Ireland Equal Marriage Bill, which is believed to have widespread support in Parliament.
The letter says: "Sir, We welcome the prime minister stepping in to back a private members' bill to make upskirting a specific criminal offence in government time, after it was blocked at second reading last week.
"As MPs from across the House of Commons, we were disappointed that a Bill to legalise same-sex marriage in Northern Ireland was recently blocked in exactly the same way.
"It is deeply unfair that, in 2018, same-sex couples in Northern Ireland are prohibited by law from marrying, but those in England, Wales, Scotland and Ireland are permitted to do so.
"A change in the law ought to be introduced by a fully functioning devolved administration, but the lack of a functioning government in Northern Ireland should not delay the provision of fundamental rights. Hence, the government should bring the bill to legalise same-sex marriage in Northern Ireland into its own time in the House of Commons."
Marriage equality campaigners in Northern Ireland have welcomed the letter and have called on the Prime Minister to intervene.
Patrick Corrigan, Northern Ireland director of Amnesty International, one of the members of the Love Equality campaign for marriage equality, said:
"There has been no devolved government in Northern Ireland for 18 months and there is no prospect of it returning anytime soon. Responsibility for ending discrimination against LGBT+ people in Northern Ireland now rests with the UK Government. Same-sex couples in Northern Ireland should not be forced to wait a moment longer to be treated as equal citizens.

"This week Theresa May described upskirting as 'degrading' and took steps to outlaw the practice. We hope she recognises that to have the law consider you a second-class citizen within the UK, because you are gay, is also pretty degrading. The Prime Minister has an opportunity to prove her LGBT+ credentials and we urge her to act."
The Times' letter comes amidst intensifying calls on Theresa May to reform Northern Ireland's restrictive laws on same-sex marriage and access to abortion, and will put further pressure on the Prime Minister to commit to human rights obligations in Northern Ireland.
Earlier this month, thousands of people marched in Belfast and Derry to demand that the UK government introduce marriage equality legislation for Northern Ireland. Conor McGinn MP addressed a rally of thousands in front of Belfast City Hall.
The Love Equality campaign for equal civil marriage in Northern Ireland is led by the Rainbow Project, Amnesty International, Irish Congress of Trade Unions, Cara-Friend, NUS-USI and HereNI.
Background
Northern Ireland is the only part of the UK or Ireland which still bans marriage for same-sex couples, despite majority support among the public and in the Northern Ireland Assembly. In November 2015, a majority of MLAs in the Assembly voted to support equal marriage, but the measure was blocked by the DUP using a Petition of Concern, a voting mechanism designed to protect the rights of minorities in Northern Ireland.
An April 2018 Sky News poll showed 76% support for marriage equality amongst the Northern Ireland public. At least 55 out of 90 MLAs in the Assembly have publicly voiced their support for marriage equality legislation.