Northern Ireland left behind as Irish Parliament passes marriage equality law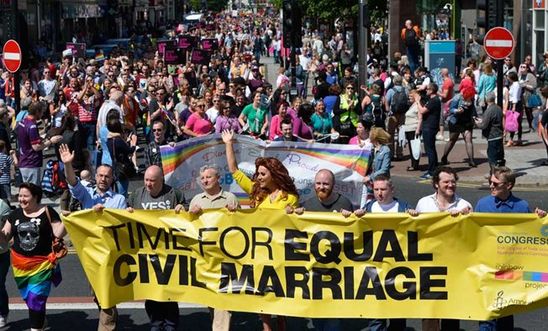 Northern Ireland is being left behind on equal rights for gay people, Amnesty International said today, as the Irish Parliament, the Oireachtas, approved a Marriage Bill which will allow for same-sex marriages in the Republic of Ireland. It will be formally signed into law next week. The first same-sex marriages in the Republic of Ireland are now expected within weeks.
Legislation south of the border will leave Northern Ireland as the only part of the UK or Ireland where same-sex couples are unable to have a civil marriage.
The Irish legislation follows an historic referendum in May, when 62% of the electorate voted in favour of introducing same-sex marriage.
A recent survey in Northern Ireland, carried out by Ipsos MORI, found that 68% of adults in the region believe that same-sex couples should be allowed to marry. An estimated 20,000 people marched through Belfast in June to demand a change in Northern Ireland law to allow same-sex civil marriage.
Patrick Corrigan, Northern Ireland Programme Director of Amnesty International, said:
"The passage of the Marriage Bill by the Oireachtas is a hugely significant step towards equality for same-sex couples in the Republic of Ireland. However, it also underlines the extent to which Belfast has been left behind by London, Dublin, Edinburgh and Cardiff. Within days Northern Ireland will be the only part of the UK or Ireland where the government bans same-sex couples from getting married and refuses to recognise same-sex marriages conducted elsewhere on these islands.
"Same-sex couples who have been married in England, Scotland or Wales will now have their marriages recognised under Irish law. Yet when those same couples come to Northern Ireland - another part of the UK - they will suddenly find that their marriages are not recognised as such. That underlines the utter absurdity of the current ban on same-sex marriage in Northern Ireland.
"Stormont politicians must come to their senses and deliver equality for all our citizens."
A motion calling for the Northern Ireland Executive to introduce legislation to allow for same-sex marriage will be debated by the Northern Ireland Assembly on November 2nd.