Northern Ireland left behind as Irish government approves marriage equality law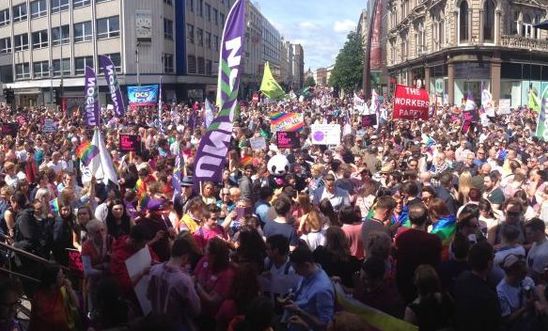 Marriage equality rally in Belfast, June 2015
Northern Ireland is being left behind on equal rights for gay people, Amnesty International said today, as the Irish Government approved a Marriage Bill which will allow for same-sex marriages in the Republic of Ireland.
Legislation south of the border will leave Northern Ireland as the only part of the UK or Ireland where same-sex couples are unable to have a civil marriage.
The first same-sex marriages in the Republic of Ireland are now expected before the end of the year. The legislation follows an historic referendum in May, when 62% of the electorate voted in favour of introducing same-sex marriage.
A recent survey, carried out by Ipsos MORI, found that 68% of adults in Northern Ireland believe that same-sex couples should be allowed to marry. An estimated 20,000 people marched through Belfast in June to demand a change in Northern Ireland law to allow same-sex civil marriage.
Patrick Corrigan, Northern Ireland Programme Director of Amnesty International, said:
"The move by the Irish government is a welcome step towards equality for same-sex couples in the Republic of Ireland. However, it also underlines the extent to which Belfast has been left behind by London, Dublin, Edinburgh and Cardiff when it comes to equality for gay people. Soon Northern Ireland will be the only part of the UK or Ireland where the government bans same-sex couples from getting married and refuses to recognise same-sex marriages conducted elsewhere on these islands.
"Most people in Northern Ireland want to live in a country where unequal laws are consigned to the history books. If Northern Ireland's politicians continue to fail on equal rights to civil marriage, then it will be left to the Courts."