Northern Ireland: January deadline to be set for equal marriage law to take effect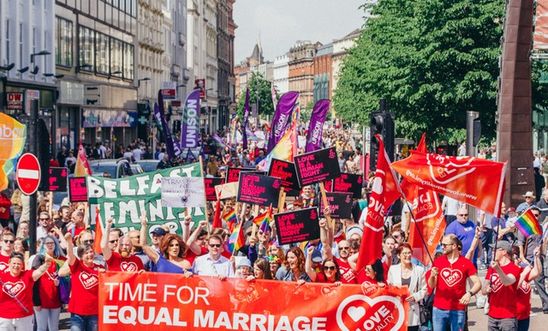 Amendment to Northern Ireland Bill expected today by Lord Hayward would deliver same-sex marriage law by January 2020
'We are looking forward to New Year wedding bells in Northern Ireland.' – Patrick Corrigan
Campaigners for marriage equality in Northern Ireland are hoping for "New Year wedding bells", as an amendment to the Northern Ireland Bill being tabled later today will set a January 2020 deadline for a new same-sex marriage law to come into force.
Last week, MPs voted by 383 to 73 to oblige the Government to change the law on 21 October 2019 if the devolved Northern Ireland Executive has not been re-established by that date. The Government has pledged to meet the commitment if the Northern Ireland (Executive Formation) Bill becomes law, as expected, later this week.
When the Marriage (Same Sex Couples) Act 2013 became law in July 2013 in England and Wales, it took until March 2014 for all the necessary regulatory changes to take place to allow the first weddings to happen at the end of that month.
Northern Ireland's Love Equality campaign says it has set a target of three months for similar changes to take place and will be urging peers and MPs to support an amendment in Parliament this week to ensure this deadline is met. The amendment, which has been drafted in consultation with the campaigners, will be tabled by Conservative peer Lord Hayward today.
Tomorrow, the Bill will have its report stage and third reading in the House of Lords, before moving to the Commons on Thursday for consideration of amendments and likely final vote.
Patrick Corrigan, Northern Ireland director of Amnesty International, part of the Love Equality coalition, said:
"We are working hard with MPs and peers from across Parliament to get equal marriage legislation over the line this week. 

"Our campaign has been working closely with a cross-party coalition of MPs and peers for the last eighteen months and more intensively over recent weeks. We are confident that the necessary changes can be made within three months from the equal marriage clause coming into legal effect on October 21st. This is a significant improvement on the more than eight months that were required for implementation in England and Wales.

"An amendment is being introduced to the Bill today by Lord Hayward which we believe fully addresses the questions that Government ministers have raised about the implementation period and human rights compatibility.

"We are looking forward to New Year wedding bells in Northern Ireland."
Lord Hayward, who has been spearheading marriage equality moves in the Lords, said:
"We have listened to the concerns raised by Government about timetables, on civil partnerships for opposite-sex couples and about ensuring the law is watertight to any challenges in the courts. Today I am tabling a specific amendment to resolve these technical issues, and we expect this will have widespread support in both Houses.

"Given the welcome public commitments made by Ministers over recent days, I have confidence in their commitment to finish the job that Conor McGinn and I started from the backbenches some eighteen months ago.

"We have work to finish in both Houses of Parliament in the days ahead, but we can say that equal marriage for Northern Ireland is now within touching distance."
Conor McGinn MP, who led a cross-party group of MPs to table last week's successful same-sex marriage amendment in the Commons, said:
"This week, both Houses of Parliament have a chance to do the right thing by the LGBT community in Northern Ireland.

"The key date for the Bill is October 21st. If there is no Executive in place by that date, then marriage equality will finally become law in Northern Ireland. Naturally, it will take a few months for the changes to regulations necessary to give effect to the law – that is normal with any Act of Parliament, but we think this can be done without undue delay.

"Given the overwhelming number of MPs who voted for equal marriage and abortion law reform on Tuesday, I expect the Bill will complete its progress through both Houses into law by the end of this week."

Background
The Love Equality campaign for equal civil marriage in Northern Ireland is led by the Rainbow Project, Amnesty International, Irish Congress of Trade Unions, Cara-Friend, NUS-USI and HereNI.
Northern Ireland is the only part of the UK or Ireland which still bans marriage for same-sex couples, despite majority support among the public and in the Northern Ireland Assembly. In November 2015, a majority of MLAs in the Assembly voted to support equal marriage, but the measure was blocked by the DUP using a Petition of Concern, a voting mechanism originally designed to protect the rights of minorities in Northern Ireland.
An April 2018 Sky News poll showed 76% support for marriage equality amongst the Northern Ireland public, with just 18% opposed.
At least 55 out of 90 MLAs in the Assembly have publicly voiced their support for marriage equality legislation.