Northern Ireland: 'Hooded Men' investigation can proceed after police appeal bid rejected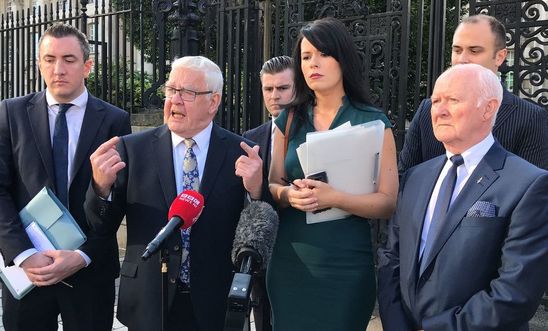 Some of the Hooded Men and Grainne Teggart outside the Court of Appeal earlier this year © Amnesty International
Belfast Court of Appeal dismisses attempt from PSNI to appeal the long-running case to UK Supreme Court
'This has been a long road and we've had to fight our way down every inch of it' - Francis McGuigan
The Belfast Court of Appeal has today rejected the Police Service of Northern Ireland's application to appeal the 'Hooded Men' case to the UK Supreme Court. This means a judgment by the Court of Appeal in September is upheld and an investigation into the men's torture must now urgently proceed.
Grainne Teggart, Amnesty International's Northern Ireland Campaign Manager, said:
"This is a great day for the Hooded Men.

"After nearly five decades of fighting for justice, these men can now expect an independent, human rights-compliant investigation into their torture to finally get underway.

"Justice must be delivered. These men deserve answers. Those who sanctioned and carried out their torture must be held accountable, including where possible, with prosecutions."
One of the Hooded Men, Francis McGuigan, said:
"This has been a long road and we've had to fight our way down every inch of it - but this is a good day.

"We now look forward to a full investigation into what happened to us. The ministers, members of the MOD and RUC officers responsible for authorising and carrying out our torture need to be held accountable."
Earlier ruling
In September, the Belfast Court of Appeal ruled that an investigation into criminal acts committed during the interrogation of the Hooded Men in Northern Ireland in 1971 should proceed and that the men's treatment amounted to torture. 
The High Court in Belfast has also previously ruled that there must be an investigation into the unlawful treatment of the men. Mr Justice Maguire said in his judgment that the force's decision to end its investigation into the case in 2014 was "seriously flawed" and that a "completely fresh decision process should begin". He added it was "plain that the methods used were unlawful".