Northern Ireland: Derry Girls' Nicola Coughlan makes same-sex marriage plea ahead of Belfast march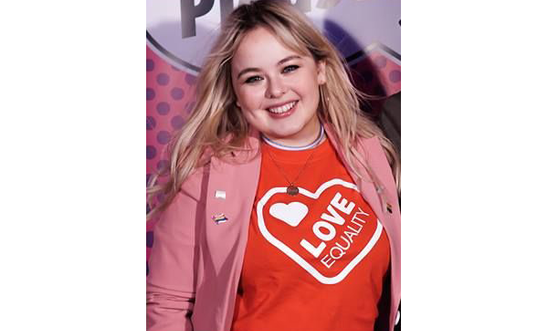 Nichola Coughlan © Boombox Belfast
Thousands to march in Belfast tomorrow to call for equal marriage legislation
Sara Canning, Lyra McKee's partner, to address rally at Belfast City Hall on Saturday 18 May
"The LGBTQ community in Northern Ireland deserve to celebrate who they love with the full recognition and support of the law" – Nicola Coughlan
Nicola Coughlan, the actor who plays Clare Devlin in hit TV series Derry Girls, has added her voice to calls for marriage equality legislation to be extended to Northern Ireland ahead of a march in Belfast on Saturday.
The march is being organised by the Love Equality campaign for marriage equality, which wants the UK Government to extend same-sex marriage laws to Northern Ireland in the absence of a devolved government at Stormont.
Thousands are expected to participate in the march which will culminate in a rally at Belfast City Hall, where Sara Canning, partner of Lyra McKee - the journalist who was tragically killed in Derry / Londonderry last month - will address the crowd.
Nicola Coughlan said:
"In Derry Girls I play the wee lesbian, Clare Devlin. Since the show has come out, I've received so many messages from people from all over the world to say how much Lisa McGee including an LGBTQ character in her show has meant to them.

"However, what a lot of these people don't realise is that Clare Devlin would still not be allowed to be married in her own country in 2019.

"I've had the privilege of visiting the incredible Rainbow Project in Belfast and have seen the invaluable work they do with the little financial support they have - they are incredible. The LGBTQ community in Northern Ireland deserves to celebrate who they love with the full recognition and support of the law. Love is a human right, and I'm proud to stand with you all to fight for it."
Background
The Love Equality campaign for equal civil marriage in Northern Ireland is led by the Rainbow Project, Amnesty International, Irish Congress of Trade Unions, Cara-Friend, NUS-USI and HereNI.
Northern Ireland is the only part of the UK or Ireland which still bans marriage for same-sex couples, despite majority support among the public and in the Northern Ireland Assembly. In November 2015, a majority of MLAs in the Assembly voted to support equal marriage, but the measure was blocked by the DUP using a Petition of Concern, a voting mechanism designed to protect the rights of minorities in Northern Ireland.
An April 2018 Sky News poll showed 76% support for marriage equality amongst the Northern Ireland public.
At least 55 out of 90 MLAs in the Assembly have publicly voiced their support for marriage equality legislation.
Timings: Saturday 18 May 2019
The march in Belfast

will gather from 1pm in Writers' Square, departing 1:45pm.

Rally

with speeches from stage in

front of Belfast City Hall at approximately 2.15pm.
Media info: 
Photographs available of Nicola Coughlan wearing a Love Equality t-shirt
Love Equality media information:
Patrick Corrigan: 07740 623155