Northern Ireland: Conservative MPs reject that Westminster cannot act on abortion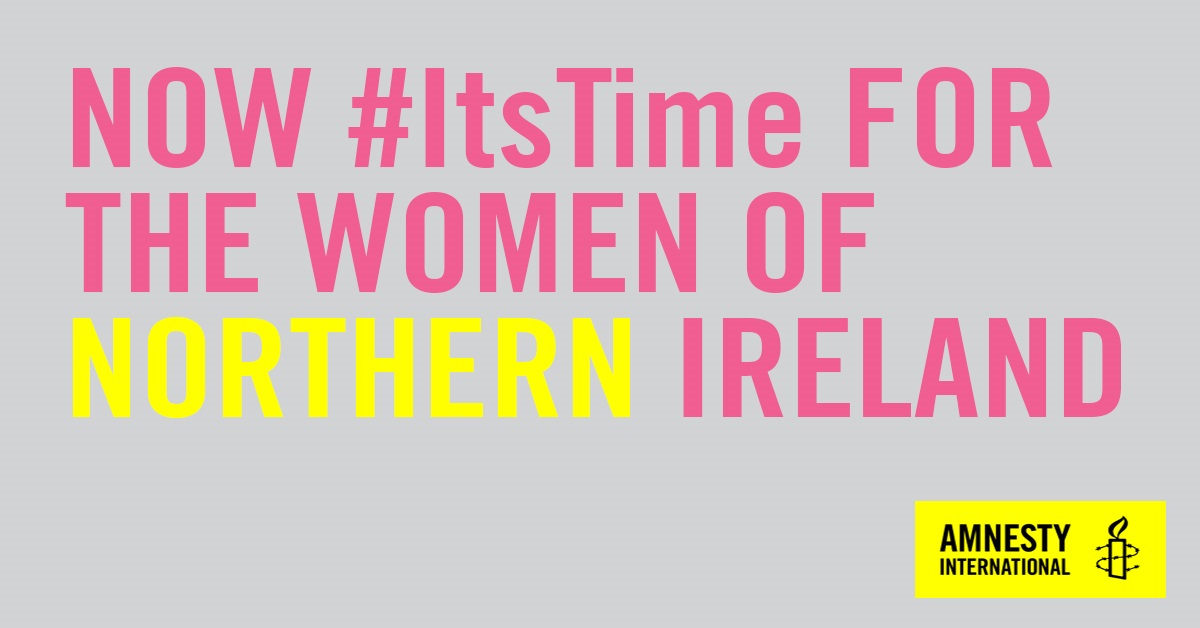 MPs Anna Soubry, Nicky Morgan, and Huw Merriman in Belfast for meetings on abortion law reform
'Women and girls in Northern Ireland are not second-class citizens. They deserve access to free, safe and legal abortion services without having to travel to other parts of the UK' – Anna Soubry MP
Visit comes as Northern Ireland leaders issue joint statement calling for Westminster to decriminalise abortion
Interview opportunities available
Conservative MPs Anna Soubry, Huw Merriman and Nicky Morgan have travelled to Northern Ireland today (28 September) for a series of meetings that will help push forward reform of Northern Ireland's near-total ban on abortion.
The MPs will meet with women, midwives and doctors affected by Northern Ireland's restrictive abortion law, as well as local political parties and legal professionals challenging the law through the courts. They will hear from the people directly impacted by the near-total abortion ban, so they can take their stories and experiences back to Westminster where they will push for change.
The visit - which is being hosted by Amnesty International UK and the Family Planning Association as part of a series of events with Westminster political parties - comes at a critical moment in the campaign for decriminalisation of abortion in Northern Ireland; a week after the UK Parliament's Women and Equalities Committee launched an inquiry into Northern Ireland's abortion law and a few weeks ahead of the launch of a UK Private Members' Bill on the decriminalisation of abortion.  Despite UN bodies and the UK Supreme Court finding that Northern Ireland's abortion law breaches human rights, the UK Government has yet to commit to updating Northern Ireland's abortion laws, which treat women in Northern Ireland differently from women in all other parts of the UK and the Republic of Ireland.
Anna Soubry MP said:
"It's ultimately the people of Northern Ireland who are affected by the restrictive abortion law there, which is why we're in Belfast today – to listen first hand to the women, midwives and doctors who find themselves harmed and compromised by the near-total ban on abortion.

"Women and girls in Northern Ireland are not second-class citizens. They deserve access to free, safe and legal abortion services without having to travel to other parts of the UK. Our government must prioritise their rights and there is now significant support in Westminster for reform. We will continue to push for it to ensure that long and overdue change happens." 
Huw Merriman MP said:
"Abortion is a healthcare and human rights issue. In our United Kingdom, there should be no difference between a woman who lives in Northern Ireland and needs an abortion and a woman who lives in England and needs an abortion. Whilst our preference has been that a devolved government addressed this, the fact is Stormont has not sat since January 2017 and Parliament has responsibilities to legislate for and represent citizens in every part of the UK where devolution does not apply or operate. Women cannot wait."
Grainne Teggart, Amnesty International's Northern Ireland Campaign Manager, said:
"This visit has huge significance for the people of Northern Ireland who have so far been let down by the UK Government's inaction on abortion law reform. Since Ireland voted to change their restrictive law, we've heard nothing but silence from the UK Government on whether women and girls in Northern Ireland will be given access to free, safe and legal abortion services in Northern Ireland. It is wrong to insist abortion is a matter for a devolved administration.

"It's clear that Anna Soubry, Huw Merriman, Nicky Morgan and many other MPs across the parties accept this is a matter for Westminster and are taking a stand for the rights of women in Northern Ireland by doing what they can to push parliament to reform the outdated and discriminatory abortion law.

"We're now at a tipping point – and an urgent one. The Women and Equalities Committee has announced an inquiry into Northern Ireland's abortion law, and next month a crucial Private Member's Bill on decriminalising abortion will be debated at Westminster.  Today's visit will put us a step closer towards equality for the women and girls of Northern Ireland."
Ruairi Rowan, Advocacy Manager from Family Planning Association said:
"Every day FPA see the impact that restrictive abortion law has on women and their families through the provision of our Pregnancy Choices Counselling Service. A clear majority of the Northern Ireland population want to see abortion law reform. It's time for the law to catch up with public opinion.

"FPA believe that abortion is an essential part of women's reproductive health and it should not be a criminal act. We trust women to make decisions regarding their own reproductive health."
Statement from Northern Ireland party leaders on abortion
The visit comes on the same day that the leaders and representatives of Sinn Fein, Alliance Party, UUP and SDLP have issued a joint statement calling for Westminster to decriminalise abortion. The joint statement reads:
"Northern Ireland has been without government since January 2017, we are concerned about the harm being caused to women living under the existing Victorian era legislation which makes abortion illegal in almost every circumstance.

We agree with the recent ruling of the UK Supreme Court that abortion law in Northern Ireland is in need of radical reconsideration.

We note that 919 women travelled to England in 2017 for this healthcare service and countless others purchased abortion pills online, in doing so risked prosecution.

We further note that the UN Committee on the Elimination of Discrimination against Women found that the UK is responsible for 'grave and systematic' violations of women's rights by unduly restricting their access to abortion and recommended the repeal of sections 58 and 59 of the Offences against the Person Act 1861.

We call on UK Government to decriminalise abortion by repealing sections 58 and 59 of the 1861 Offences Against the Person Act and to ensure a human rights compliant framework governing access to abortion.

Michelle O'Neill, Sinn Fein

Colum Eastwood, SDLP

Naomi Long, Alliance Party

Doug Beattie, UUP"
Private Members' Bill on decriminalisation
Next month, Diana Johnson MP will launch a Private Members' Bill on decriminalisation of abortion which will apply to Northern Ireland, England and Wales.