Northern Ireland: Campaigners welcome Government commitment to allow religious same-sex marriage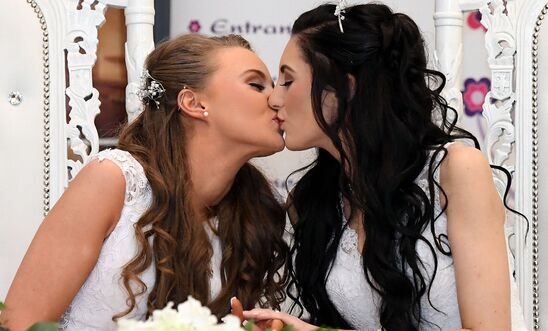 © Robyn and Sharni Edwards-Peoples
Government announcement follows criticism of Secretary of State for delays in introducing law changes
Campaigners call for further law change to allow conversion of civil partnerships to marriage
Marriage equality campaigners have welcomed an announcement by the UK Government that it will introduce law changes next week to allow same-sex couples in Northern Ireland to have religious wedding ceremonies.
Northern Ireland is currently the only part of the UK or Ireland where this is not currently possible.
In a statement today, a UK Government spokesman said:
"We intend to lay regulations next week to allow for same-sex religious marriage in Northern Ireland to come into effect from September 1 2020.
"Conversion entitlements regulations will follow as soon as possible before the end of 2020."
Cara McCann, Director of Here NI, an organisation representing lesbian and bisexual women in Northern Ireland, part of the Love Equality campaign for marriage equality, said:
"We warmly welcome this announcement by the Secretary of State and would urge him to now finish the job of marriage equality in Northern Ireland by allowing couples in civil partnerships to convert to married status if they wish without further delay. This affects around 1,200 couples in Northern Ireland, including me and my partner Amanda, who entered a civil partnership in the absence of same-sex marriage and who are currently unable to marry."
Patrick Corrigan, Northern Ireland director of Amnesty International, part of the Love Equality campaign for marriage equality, said:
"This is brilliant news for all the same-sex couples of faith who have been waiting for this overdue change in the law and who can now plan their wedding in a church or other religious setting. This is an important issue for many couples in Northern Ireland, who currently have to suffer an interference with their freedom of religion by not being allowed to marry in their own church."
The announcement by the Secretary of State comes on the one-year anniversary of the historic House of Commons vote, on July 9 2019, in favour of an amendment from Conor McGinn MP to extend same-sex marriage to Northern Ireland.
Same-sex civil marriage became legal in Northern Ireland on Monday 13 January this year, and the first wedding took place on February 11 when Sharni Edwards and Robyn Peoples married in Carrickfergus. The couple has been critical of Government delays in introducing the necessary changes to the law to allow a religious ceremony or conversion of civil partnerships.
Religious weddings
Under Government plans, same-sex couples in Northern Ireland should be able to get married in a religious ceremony where the church or other faith group wishes to offer such weddings, but no church would be compelled to offer same-sex weddings. Similar arrangements are already in place in the rest of the UK and Ireland.
Conversion of civil partnerships
Plans should allow same-sex couples with an existing civil partnership to convert this to a marriage through a simple administrative process. There are more than 1,200 same-sex couples in Northern Ireland who currently have civil partnerships.
The Love Equality campaign for equal civil marriage in Northern Ireland is led by the Rainbow Project, Here NI, Amnesty International, Irish Congress of Trade Unions, Cara-Friend, and NUS-USI.