Northern Ireland: campaigners urge release of last UK detainee at Guantánamo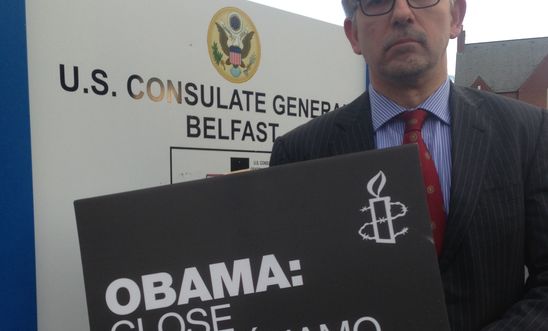 Dr David Nicholl at US Consulate General, Belfast © AI
Amnesty International members in Northern Ireland have highlighted the case of Shaker Aamer, the only former UK resident still detained in Guantánamo Bay, Cuba.
Mr Aamer, whose family live in south London, has been held without charge or trial at Guantánamo since 14 February 2002, and was "cleared for transfer" from Guantánamo as long ago as 2007.
Amnesty's Northern Ireland director Patrick Corrigan and Belfast-born consultant neurologist David Nicholl - who has championed the plight of Guantánamo detainees - raised the case in a meeting at the US Consulate General in Belfast this morning (Tuesday).
Mr Nicholl has led a campaign by UK medics for the release of Mr Aamer, who is suffering from a range of medical problems, including post-traumatic stress disorder. Later today, Mr Nicholl will deliver a speech on the force-feeding of hunger-striking detainees in Guantánamo at a conference in the University of Ulster.
Last Friday in Washington, Prime Minister David Cameron raised Mr Aamer's case with President Obama, and the US president gave a public commitment to "prioritise" the case. However no date has been given for Aamer's release and return to the UK. Meanwhile, 18,000 people have signed a new Amnesty petition (www.amnesty.org.uk/shaker) calling for his release without delay if the 46-year-old is not to be charged and brought to a fair trial.
In advance of the meeting at the US Consulate in Belfast, Dr Nicholl said:
"As a medical professional, I am extremely concerned for the health of Shaker Aamer. Shaker's ongoing detention is having an appalling effect, not just on his health, but on those of his family, especially his wife - all of whom are British citizens.
"As an Amnesty member and human rights campaigner, I am appalled that anyone can be locked up for 13 years of their life without ever being charged with or tried for a criminal offence."
Patrick Corrigan, Northern Ireland Programme Director of Amnesty International, said:
"We welcome President Obama's commitment to prioritise Shaker Aamer's case, but those words must be followed by actions. No more excuses, no more delays - Mr Aamer should be given a date for a safe return to his family."
Amnesty hand delivered a letter addressed to President Obama calling for immediate action on the case and highlighting the damage done to the international reputation of the US through the continuing operation of the Guantánamo camp. One section of the letter notes:
"One of the lessons of the Northern Ireland conflict was that the setting aside by the state of due process of law in favour of "emergency measures" such as detention without charge or trial, led not to increased security, but rather to a counterproductive and long-lasting degradation of respect for the law and the authority of the state. Sadly, that has also occurred in the context of the US adoption of such measures in response to the terrorist attacks of September 11 2001, leading to a tarnishing of the international reputation of the US as a beacon for freedom."