Northern Ireland: Amnesty and CAJ raise concerns over laws restricting protest ahead of Assembly debate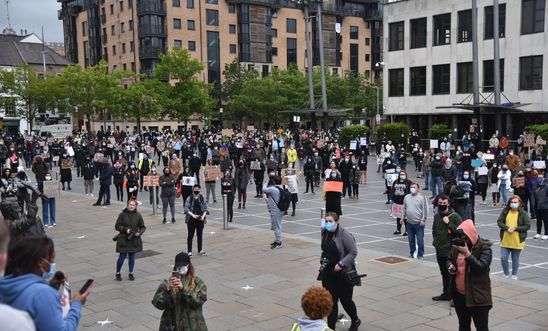 Black Lives Matter protest, Custom House Square, Belfast June 6 2020 © Brendan Harkin
Human rights organisations concerned at last-minute law changes and PSNI action against Black Lives Matter protests
Amnesty International UK and the Committee on the Administration of Justice (CAJ) have written to every MLA - in advance of a debate in the Northern Ireland Assembly today (Tuesday) - to outline concerns about law changes which restrict freedom to protest in Northern Ireland. 
Later today, MLAs will debate amendments to The Health Protection (Coronavirus, Restrictions) Regulations (Northern Ireland) 2020 which previously became law without scrutiny or debate in the Assembly.
The human rights organisations previously branded as "unacceptable" the last-minute introduction of changes to regulations governing outdoor gatherings which allowed the PSNI to issue some 70 fines and community resolution notices against peaceful and socially distanced Black Lives Matter protestors in Belfast and Derry-Londonderry on Saturday 6 June.
The human rights organisations have raised concerns that enforcement powers used by the PSNI as the legal basis for penalties only came into force at 11pm on Friday 5 June, just hours ahead of Black Lives Matter protests, which resulted in scores of participants receiving fines and organisers facing prosecution.
Amnesty and CAJ are calling on MLAs to ensure the law allows people to exercise their human right to peaceful protest.
Patrick Corrigan, Northern Ireland Programme Director of Amnesty International UK, said: 
"The Department of Health made last-minute changes to the law on the Friday evening before the Black Lives Matter protests, without any debate or scrutiny in the Assembly.

"Assembly members need to take this opportunity to challenge the law which effectively criminalises any protest which the PSNI decides to target, including those where organisers and participants enforce strict social distancing measures.

"This is bad law. MLAs should now fix it so that people are permitted to exercise their fundamental human right to protest peacefully and safely."
Brian Gormally, Director of CAJ, said:
"We have serious concerns both about the confused and unsatisfactory nature of emergency legislation in Northern Ireland and the policing operations in response to the Black Lives Matter protests.

"We have received testimony from people who were sanctioned by the police that action against individuals may have been taken in an arbitrary or discriminatory manner, including on the basis of racial profiling.

"These are extraordinarily serious concerns, made even more so by the apparent difference in approach taken by the police to other recent protests which have not been led by or involved significant numbers of black and minority ethnic people."
Right to protest
The right to protest is a fundamental human right, which may be limited in a public health emergency, but limitations must be necessary, proportionate, meet the test of 'legal certainty' – this is, the rules must be clear - and not be enforced in an arbitrary or discriminatory manner.
Last-minute powers
The 'The Health Protection (Coronavirus, Restrictions) Regulations (Northern Ireland) 2020' have now been amended five times but neither the exemptions to the 'Stay at home' regulation 5 or the 'restrictions on gatherings' regulations (6-6A) expressly consider protests.
The PSNI have relied on Regulation 6A – designed to restrict outdoor social gatherings to up to six persons. Notably this came into force on the 19th of May but there were no enforcement powers attached to it. That changed as an amendment which was put before the NI Assembly at 5pm on Friday 5 June and came into force at 11pm that Friday night, on the eve of the anti-racism protests.