Northern Ireland: 'Time to deliver' say marriage equality campaigners, one year on from Ireland's Yes vote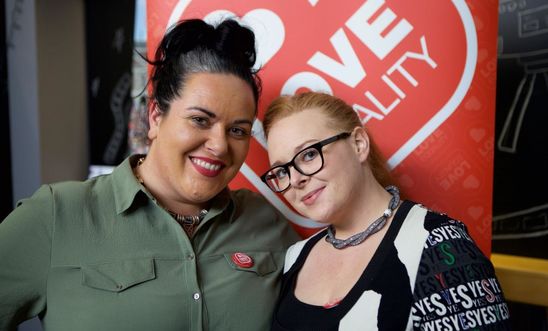 Gemma Hutton and Stacy Fitzner, one of thousands of couples currently denied the right to get married in Northern Ireland © Karl Hayden
One year on from the historic Yes vote in the Republic of Ireland's marriage equality referendum, campaigners in Northern Ireland have said it's time for the region's Assembly to deliver the same rights for thousands of couples there.
On 23 May 2015 there were jubilant scenes across Ireland as it became clear that the people of the Republic had made history by becoming the first country in the world to introduce marriage equality by popular vote. Marriage equality campaigners in Northern Ireland – which is the only part of the UK and Ireland where marriage for same-sex couples is still banned – want to share the love.
Thirty-one year-old Gemma Hutton from Belfast is engaged to her partner Stacy Fitzner and wants to be able to get married in Northern Ireland:
"Our love is just like any other couple's love. This is not just about a piece of paper, we want genuine equality and full recognition from our government - we refuse to accept second-class status.
"Most of all, this is about the society we want for our kids. We want the next generation to grow up in a place where everyone's identity and loving relationships are equally valued by society and by the law. That is our goal – nothing more, but certainly nothing less."
Patrick Corrigan, one of the organisers of the Love Equality campaign for marriage equality in Northern Ireland, says people are impatient for a change in the law:
"That day in May last year arguably changed the Republic forever. People declared they wanted to live in an inclusive, equal society. That same desire for change exists in Northern Ireland.
"The 68% of people in Northern Ireland who have told opinion polls that they back marriage equality here dwarfs even the 62% of people who voted Yes in last year's referendum in the Republic.
"People are impatient for change. They have just returned a majority of pro-equal marriage politicians to the Assembly and now expect them to deliver without further delay or the misuse of petitions of concern to veto the will of the people."
The Love Equality campaign estimates that at least 58 of the newly-elected members of the Northern Ireland Assembly support the introduction of equal marriage. Four of the region's political parties have committed to introducing a Marriage Equality Bill.