North Korea: 'Rare' release of mother from prison camp welcomed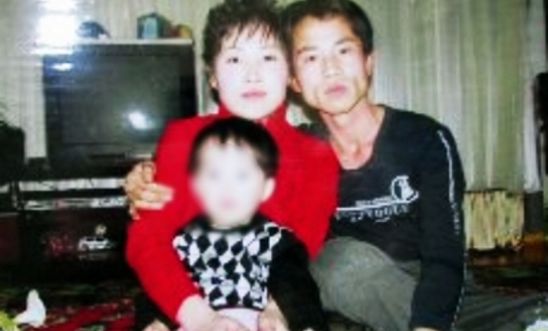 Koo Jeong-hwa with her husband and son © Amnesty International
Four year-old son suffering frostbite on hands and feet, was originally held with her

Koo Jeong-hwa

was expected to get life in one of North Korea's notoriously secretive and  brutal prison camps

'This is a very rare opportunity to enjoy some good news from North Korea' – Arnold Fang
The unexpected release of a North Korean woman widely expected to be sentenced to life in a political prison camp, offers a rare glimpse of hope that the authorities in the repressive state may be loosening their iron grip on the population, Amnesty International said today.
Koo Jeong-hwa, who was detained after she crossed the Chinese-Korean border with eight other people including her four-year-old son, was forcibly returned to North Korea by the Chinese authorities on 17 November 2017. She had been held in a detention centre in Hoeryeong City since then, accused of committing treason for leaving her country.
Koo Jeong-hwa's son was originally detained alongside her but was sent to his grandmother after 20 days because the detention facility said it could not take care of him. He was suffering from frostbite on his hands and feet. Though released from the detention centre, he was still at risk of being sent to a political prison camp with his mother had she been sentenced, due to the "guilt by association" practice in North Korea which often means the detention of entire families of those found guilty.
Arnold Fang, Amnesty's East Asia Researcher, said:

"This is a very rare opportunity to enjoy some good news from North Korea, and we are delighted that Koo Jeong-hwa is no longer facing the threat of torture, other ill-treatment and lifelong internment in a prison camp, at least for now. Instead she can be reunited with her young son.

"The recent improvement in inter-Korean relations, as well as pressure from the international community after Koo Jeong-hwa's case was made known, may have been helpful in securing her otherwise unlikely release.

"The North Korean authorities must now move beyond piecemeal actions and disclose the situation in the country's political prison camps, as well as the fate of all other individuals who have been forcibly returned from China.

"Freedom of movement is a fundamental human right and no one should face imprisonment for trying to leave their country regardless of the circumstances."
Koo Jeong-hwa's husband, who now lives in South Korea, confirmed that his wife had been released from detention on 6 March after the charges against her were dropped. The news was delayed due to security concerns. It is not known what happened to the eight people returned to North Korea with her, or why the case against her was dismissed. 
Over the past two decades, tens of thousands of North Koreans have left the country due to persecution for political or religious reasons, or the desperate need to find food and work. Many of them have crossed the Chinese-Korean border.
The Chinese government does not consider North Koreans crossing the border without prior permission to be asylum-seekers, instead regarding them as irregular economic migrants. If caught they are often forcibly returned to North Korea where they are at risk of forced labour, torture or other ill-treatment. 
Photograph of Koo Jeong-hwa and her husband and son available
Amnesty has extensively researched conditions in the notoriously secretive and brutal prison camps, and has catalogued camp expansion over years using satellite images. More information on the horrendous conditions in the camp and interviews with former prisoners and guards in a video, here: https://www.amnesty.org.uk/north-korea-life-camps