Nigerian authorities were warned of Boko Haram attacks on Baga and Monguno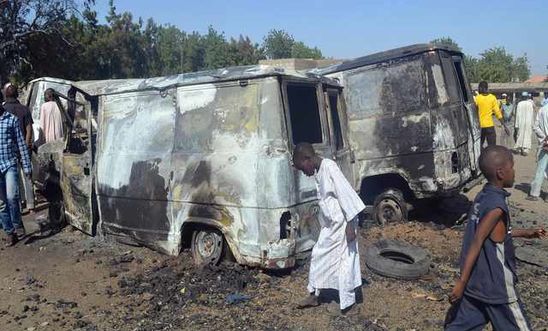 Boko Haram attacks have already killed hundreds - if not thousands - of people this year © AFP/Getty Images
Amnesty International has received new evidence that reveals that the Nigerian military were repeatedly warned of impending Boko Haram attacks on Baga and Monguno but failed to take adequate action to protect civilians. The attacks claimed hundreds of lives.
According to a senior military source and other evidence gathered by Amnesty, commanders at the military base in Baga regularly informed military headquarters in November and December 2014 of the threat of a Boko Haram attack and repeatedly requested reinforcements. Other military sources and witnesses have told Amnesty that the military in Monguno had an advanced warning of the Boko Haram attack on 25 January.
Netsanet Belay, Amnesty's Africa director, said:
"It is clear from this evidence that Nigeria's military leadership woefully and repeatedly failed in their duty to protect civilians of Baga and Monguno despite repeated warnings about an impending threat posed by Boko Haram.

 

"These attacks are an urgent wake-up call for the Nigerian leadership, the African Union and the international community. It is essential to protect hundreds of thousands of civilians in north east Nigeria from Boko Haram's continued onslaught."
According to a senior military source, long before the attack on Baga, the Multinational Joint Task Force based in the town informed military headquarters in Abuja about sightings of Boko Haram patrols and build-ups of Boko Haram fighters. They also told headquarters ahead of the attacks, that civilians in surrounding towns and villages were fleeing the area in large numbers. Speaking about the attack on Baga, Dogon Baga and surrounding towns and villages, one military source told Amnesty:
"This attack was expected because Boko Haram warned the inhabitants of Baga and surrounding villages almost two months ago that they would be coming to attack the troops and the civilian JTF [Joint Task Force]."
Sources told Amnesty that after the Baga attack on 3 January, Boko Haram members informed locals that their "next target is Monguno," and that these civilians informed the local military. One Monguno resident told Amnesty:
"There was a warning. Everyone was aware. Boko Haram came on Wednesday last week [21 January] and asked the villagers [in nearby Ngurno] to leave because they are coming to attack the barracks. The villagers told the soldiers."
Nigerian authorities have a responsibility to take all feasible measures to protect the civilian population, including by assisting with an evacuation of those who wished to flee and transporting them to safer areas. They also have a responsibility to inform civilians of risks and dangers. According to witnesses, the local military did not make an effort to do this.
African Union force
On 29 January, the African Union's Peace and Security Council is expected to discuss the deployment of a possible regional force against Boko Haram.
Netsanet Belay added:
"If such a force were to be deployed it is vital that it has a clear mandate to protect civilians and that all parties engaging in military deployment comply with international humanitarian law and international human rights law."
Satellite images show scale of devastation
On 25 January, Boko Haram captured Monguno and also attacked Maiduguri and Konduga. Until the attack on Maiduguri was repelled by security forces, Boko Haram had effectively cut off any routes that civilians could have used to flee Boko Haram controlled territory.
On 15 January
Amnesty released satellite images
providing indisputable and shocking evidence of the scale of the attack on the towns of Baga and Doron Baga by Boko Haram militants. The before and after images of two neighbouring towns, Baga (160 kilometres from Maiduguri) and Doron Baga (also known as Doro Gowon, 2.5 km from Baga), taken on 2 and 7 January showed the devastating effect of the attacks which left over 3,700 structures damaged or completely destroyed. Other nearby towns and villages were also attacked over this period.
Since 2009, Boko Haram has deliberately targeted civilians through raids, abductions and bomb attacks, with attacks increasing in frequency and severity. The effects on the civilian population have been devastating, with thousands killed, hundreds abducted and hundreds of thousands forced to leave their homes. Amnesty has raised concerns on a number of occasions that
security forces are not doing enough to protect civilians
from human rights abuses committed by Boko Haram. There have been very few effective investigations and prosecutions of Boko Haram members for crimes under international law.
The Baga and Maiduguri attacks demonstrates how the conflict has dramatically escalated in the last 12 months. Amnesty's research indicates that in 2014 at least 4,000 civilians were killed by Boko Haram and the actual number is likely to be higher.