Nigeria: response to Boko Haram massacre in Baga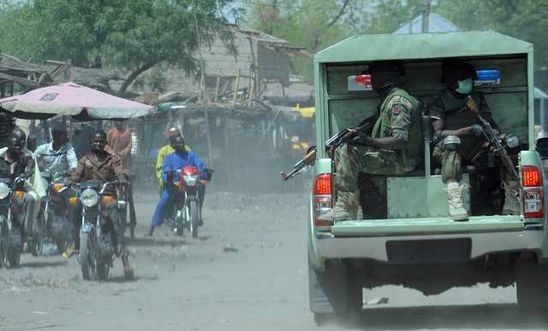 Nigerian security forces patrolling the streets in Borno state © PIUS UTOMI EKPEI/AFP/Getty Images
Following reports of the massacre of large numbers of civilians by the Boko Haram armed group in the town of Baga in Nigeria's Borno state earlier this week, Amnesty International's Nigeria Researcher Daniel Eyre said: 
"The attack on Baga and surrounding towns looks as if it could be Boko Haram's deadliest act in a catalogue of increasingly heinous attacks carried out by the group.

 

If reports that the town was largely razed to the ground and that hundreds or even as many as two thousand civilians were killed are true, this marks a disturbing and bloody escalation of Boko Haram's ongoing onslaught against the civilian population."
Boko Haram militants reportedly attacked Baga and surrounding towns on Saturday 3 January.
Since 2009, Boko Haram has deliberately targeted civilians through raids and bomb attacks, with attacks increasing in frequency and severity. The effects on the civilian population have been devastating with thousands killed and abducted, and hundreds of thousands forced to leave their homes.
Evidence gathered by Amnesty indicates that Boko Haram have committed war crimes and crimes against humanity. The Nigerian government must investigate these violent abuses and ensure that those guilty of committing them are brought to justice.