Nigeria: Rescue of women and girls a 'small step' in securing safety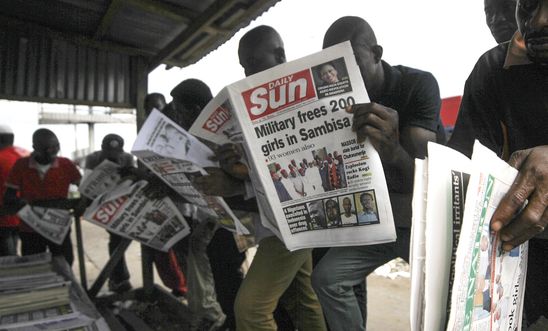 Nigeria kidnapped women and girls freed © EPA
The rescue of almost 300 women and girls by Nigeria's military from Boko Haram is an encouraging development but only a small step in securing the safety of the thousands of women and girls abducted by the armed group since the start of last year, said Amnesty International today.   
The military said they rescued the women in an offensive against the armed group in the Sambisa forest area in the north-east.
Amnesty is also calling on the authorities to ensure that the trauma of those rescued is not exacerbated by lengthy security screening in detention as in previous cases women and girls who have escaped from Boko Haram had been detained for weeks on end for 'security screening'.
According to a recent Amnesty report, more than 2,000 women and girls have been abducted by Boko Haram since the start of 2014. Drawing from interviews with those who escaped, the report reveals how civilians were executed, tortured, raped and forced into marriage in camps and towns controlled by Boko Haram.
Amnesty is calling on the authorities to ensure that their physical and psychological well-being is paramount.
Amnesty International's Africa Director Netsanet Belay said:
 

"This development is just cause for celebration and undoubtedly an immense relief to the women, girls and their families. But this is just the tip of the iceberg; there are thousands more women and girls, and men and boys who have been abducted by Boko Haram."

 

"The trauma suffered by the women and girls is truly horrific. Some have been repeatedly raped, sold into sexual slavery or indoctrinated and even forced to fight for Boko Haram.

 

"What they need now is medical and psychological care and support and privacy. The government must now ensure that it doesn't add to their suffering with lengthy detention and security screening which can only add to their suffering and plight."
Survivors of rape and other forms of sexual and gender-based violence, of all ages and genders, have the right to receive full reparation. Amnesty is calling on the Nigerian government to:
Provide urgently-needed medical and psycho-social services to all those who have lived under Boko Haram control, including the full range of sexual and reproductive health information and services.
Ensure that the privacy of those who were 'rescued' or escaped is respected and take other measures to ensure that they are able to reintegrate to family and community life.
Since February, the Nigerian armed forces, with assistance from Cameroon, Chad and Niger, have forced Boko Haram to retreat from the major towns it had controlled. Hundreds of civilians were able to return to government-controlled areas after these attacks.
The conflict is not over however and Boko Haram maintains the ability to attack and kill civilians. The Nigerian military has also committed crimes under international law and human rights violations during the conflict. Amnesty has consistently urged Nigeria's government to independently investigate both parties to the conflict for crimes under international law
Background
Boko Haram, which translates as "western education is forbidden", wants to create an Islamic state and has pledged allegiance to the armed group calling itself the Islamic State based in the Middle East. Since 2009 it has launched a violent campaign against civilians in north east Nigeria.
Amnesty International's report published last month 'Our job is to shoot, slaughter and kill' Boko Haram's reign of terror in north-east Nigeria documents war crimes and crimes against humanity committed by the armed group since the start of last year. It found that Boko Haram killed more than 5,500 civilians from the beginning of 2014 and abducted more than 2,000 women and girls in raid on towns and villages. From July 2014, Boko Haram took control over major towns in north-east Nigeria, imposing its brutal rule on civilians trapped in its territory.
The Nigerian government should also develop a plan to assist children born from rape to ensure adequate services and protection for them and their mothers. Nigeria should provide employment skills training and livelihood schemes to help reintegrate women into daily life. It should ensure that survivors of crimes of sexual and gender-based violence under international law are guaranteed their sexual and reproductive rights and can access the full range of sexual and reproductive health and information services if required.