Nicaragua: Government steps up 'ruthless' crackdown during 'clean-up operation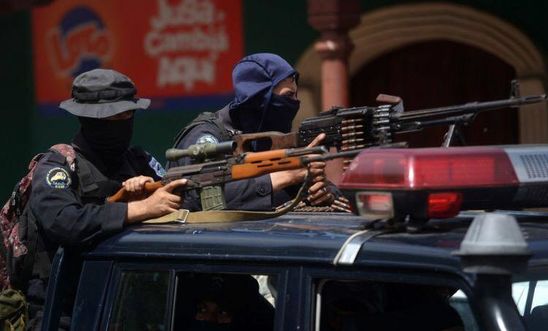 Members of the National Police armed with Dragunov riffle and a PKM machine gun in Masaya © Mervin Recinos/AFP/Getty Images
At least 300 people charged with participating in protests since May

More than 322 people killed, 2000 injured

Pro-government armed groups using 'military-grade weapons' including machine guns, sniper rifles and shoulder-launched rocket-propelled grenades
The Nicaraguan government has intensified its use of arbitrary arrests, torture and lethal force against protesters in a "clean-up" operation by police and heavily armed pro-government groups, Amnesty International said in a new report today (Thursday 18 October).
The report, released six months since the state crackdown began in response to a wave of anti-government public protests over social security reforms, documents the grave human rights violations and crimes committed by the Nicaraguan authorities between May and September.
Erika Guevara-Rosas, Amnesty International's Americas Director, said:
"Not only did President Ortega deploy police to arbitrarily arrest and torture demonstrators, he also used heavily armed pro-government groups to kill, wound and intimidate all those brave enough to stand up to his repressive strategy.
"The Nicaraguan authorities must immediately dismantle and disarm all pro-government armed groups and ensure that the police only use legitimate, proportional and necessary force during demonstrations, when appropriate. Instead of criminalising protesters as 'terrorists' and 'coup plotters', President Ortega must guarantee people's rights to peaceful assembly and freedom of expression.
"By adopting increasingly ruthless and sophisticated strategies to repress his own people, President Ortega has deepened Nicaragua's worst human rights crisis in decades, forcing thousands to abandon their homes and seek safety in other parts of the country or in neighbouring Costa Rica. Ortega's government must put an immediate end to the violent repression."
Following Amnesty's first report on the crisis, the new research documents how the government maintained and intensified its deliberately lethal strategy of repression, with the intention of crushing the protests and punishing all those who take part in them. President Ortega and Vice-President Murillo have led this strategy, frequently demonising the protesters to justify the violent crackdown and denying any human rights violations.
As of 24 August, at least 322 people had been killed, mostly by state authorities, and more than 2,000 people had been injured. Twenty-one police officers were among those killed. According to local NGOs, the Nicaraguan authorities had brought charges against at least 300 people for participating in the protests. Amnesty could not find evidence of a single person being charged for human rights violations or crimes under international law.
Pro-government groups armed with weapons of war
Government authorities have made increasingly extensive use of pro-government groups armed with military-grade weapons, often working in tandem with police to discourage protest, terrorise the population and destroy barricades set up by demonstrators. In the July 13th siege of the National Autonomous University of Nicaragua in Managua heavily armed pro-government groups indiscriminately attacked the students defending the campus, killing two and injuring at least 16, while police blocked the exits, trapping more than 200 students inside.
Amnesty has documented police and pro-government groups armed with AK-style rifles; Dragunov, Remington M24, and FN SPR sniper rifles; RPK and PKM machine guns; and even shoulder-launched PG-7 rocket-propelled grenades. Some of these are weapons of war that are prohibited for use in public security situations.
Although some protesters have used homemade mortars and a minority have reportedly resorted to using firearms such as shotguns and rifles, this does not justify the authorities' widespread, disproportionate and mostly indiscriminate use of lethal force against all protestors, instead of responding with the minimum necessary force to restore public security.
The report documents six possible extrajudicial executions, these include the killing of 16-year-old Leyting Chavarría, who was shot in the chest when police and pro-government armed groups attacked barricades in the city of Jinotega. Witnesses said a riot police officer killed Chavarría, who was only carrying a slingshot.
Torture and arbitrary arrests
Riot police allegedly killed Faber López, one of their own officers. Although the government blamed "terrorist" gunmen for his death, his family said his body did not bear any gunshot wounds but did show signs of torture. On the eve of his death, López had called his family to say he was resigning and that if he didn't contact them the next day it would be because his colleagues had killed him.
The report also highlights seven cases of probable arbitrary arrests, as well as violations of due process, which formed part of the government's strategy to break up the protest movement. It also reveals how the authorities used torture to punish protesters, tamper with evidence and obtain information about the organisation and leadership of demonstrations.
Amnesty documented at least 12 cases of possible torture, including one instance of sexual torture against a young woman in an official detention centre. In several cases, the victims still bore physical injuries when interviewed more than a month after they were tortured.
Increasing numbers of victims of human rights violations have declined to file complaints with the Nicaraguan authorities due to fear of reprisal. Instead of conducting timely, impartial and exhaustive investigations into human rights violations, the authorities have often harassed and threatened victims and their relatives.
Internal displacement and forced migration
The crisis has caused the internal displacement and forced migration of thousands of people. On 31 July, the United Nations High Commissioner for Refugees (UNHCR) announced that almost 8,000 people from Nicaragua had requested asylum in Costa Rica, at a rate of 200 per day, while another 15,000 had made appointments to request asylum in the coming weeks.
The report is based on two research missions to Nicaragua and Costa Rica during July and September, where Amnesty conducted 115 interviews and documented 25 cases of human rights violations. A team of experts also examined more than 80 pieces of audiovisual and photographic material to provide contextual analysis for the report.