New #WithSyria campaign calls for third anniversary of Syria uprising to be last marked by bloodshed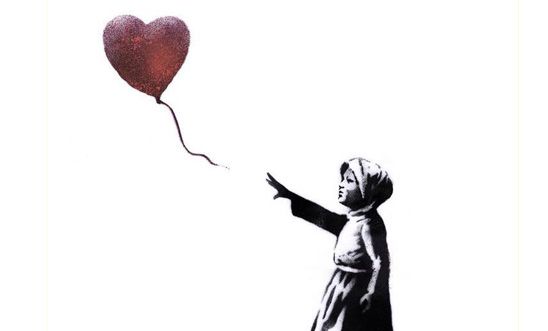 Banksy has reworked his 'girl with red balloon' to mark the anniversary © Banksy
115 humanitarian and human rights groups join Chief Rabbi, Secretary General of Muslim Council of Britain and Archbishop of Canterbury in demanding immediate action to ensure Syrians in need can access aid
Thousands of people to attend vigils held in more than 40 countries
Trafalgar Square's Nelson's Column, the Eiffel Tower and Washington's Lincoln Memorial to be lit up in message of hope at the vigils
Banksy has created a #WithSyria reworking of iconic 'girl with a red balloon' image
Thousands of people around the world - including religious leaders, the artist Banksy, the actor Idris Elba, and the rock band Elbow - are among those supporting a new #WithSyria campaign that will see mass global vigils today to mark the third anniversary of the uprising in Syria.
Vigils are being held in over 30 locations - including London, Washington, Paris, Moscow and Jordan - and the #WithSyria solidarity campaign will see numerous iconic locations bathed in light by candlelit vigils, a Banksy-inspired light projection using his "There is always hope" artwork (redesigned to feature a young Syrian girl holding a red balloon) and the release of thousands of red balloons carrying messages of hope to Syrians.
Members of the public are being encouraged to send their own message to a Syrian child by tweeting a photo of themselves releasing a red balloon attached to a written message of support to #WithSyria
Syrian voices have joined a coalition of 115 humanitarian and human rights groups from 24 countries - including Amnesty International, the International Rescue Committee, Oxfam and Save the Children - to simultaneously launch a pledge for world leaders to commit to making this 15 March the last anniversary of the Syria crisis marked by bloodshed. The campaign is calling for urgent action to ensure that Syrians in need - including civilians in areas under siege - can access aid, and for the voices of ordinary Syrians to be heard and heeded in reconvened peace talks.
According to UN statistics, the Syria crisis has now resulted in over 2.5 million refugees fleeing the country, with a further 9.3 million people in need of humanitarian assistance in Syria and over 6.5 million internally displaced people.
Amnesty International's Secretary General Salil Shetty said:

"Civilians in Syria have been subjected to countless human rights violations over the last three years, not least in the context of ongoing armed sieges. The UN resolution on humanitarian access is an opportunity for the international community to push hard for the sieges to end and unfettered access to be given to independent humanitarian organisations. That opportunity must not be allowed to slip away."

Justin Forsyth, CEO of Save the Children said:

"For three years Syria's children have endured unacceptable suffering. The impact of this crisis has been devastating. Doctors that we work with on the ground have told us children are having limbs amputated because basic antibiotics for less serious wounds are not available and new-born babies are dying in incubators due to frequent power cuts. Full humanitarian access would help injured and sick children receive the medical care that they need. The UN resolution on access must be implemented. Tonight's vigil, and vigils around the world, are to show the people of Syria that we care and that we are demanding world leaders take action to end this conflict now."

Actor Idris Elba said:

"It was important for me to support and lend my voice to this stunning animation that alongside Banksy's new piece is part of the #WithSyria campaign. Ordinary Syrian civilians continue to pay the heaviest price in a conflict that has already wrecked millions of lives. Let's stand with Syria today."

Oxfam's chief executive Mark Goldring said:

"Syria has been devastated by three years of conflict. More than 2.5 million Syrians have fled the country and the lives of millions more have been shattered. The international community has shown it can unite on Syria, but it must be consistent to ensure there is a halt to the bloodshed and an adequate aid response. Countries must give generously to the UN's humanitarian appeal for £4bn, which is severely under-funded, and reconvene inclusive talks on the future of the country as a matter of urgency."
Notes to the editor
The #WithSyria campaign film is an animation made by Hi-Sim Studios with RSA Films - with music from Elbow, who have given their song "The Blanket of Night" as the soundtrack; Idris Elba provides the voiceover. The film will be shown across the world - from places including an inflatable cinema in Za'atari refugee camp in Jordan, to the big screen in New York's Times Square. 
There is a photo-call for the simultaneous release of a red balloon at 12 midday GMT in the UK (Parliament Square: 12pm), the United States (New York's Times Square: 8am), Russia (4pm, tbc), France (Paris: 1pm) and the largest Syrian refugee camp in Jordan (Za'atari Camp: 2pm). For further details, contact: james.denselow@crisisaction.org
People from Syria and across the world have been sending photographs of themselves with red balloons to #WithSyria on Twitter.
A full list of signatory organisations to the #WithSyria campaign can be seen at: www.with-syria.org