New 'Truth for Giulio' universities campaign for Cambridge student murdered in Egypt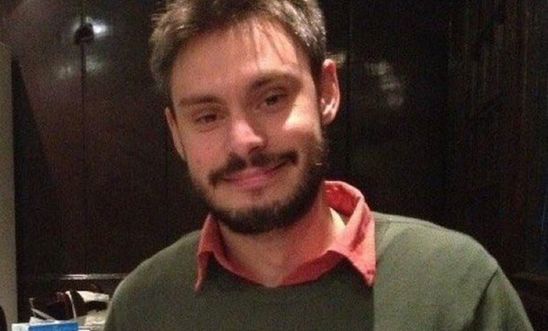 PhD student Giulio Regeni was in Egypt researching trade unions when he disappeared a year go © Private
Five universities host events to press for justice for Giulio Regeni 
Amnesty International has launched a new "Truth for Giulio" campaign for the Cambridge University student Giulio Regeni, who was abducted and killed in Egypt a year ago while doing research in the country.
The 28-year-old Regeni went missing exactly one year ago (25 January 2016) while doing research in Cairo for his PhD on trade unions. His badly-mutilated body was found in a ditch on the outskirts of Cairo on 3 February 2016, one of many such grisly discoveries in Egypt in recent years. Since early 2015, Amnesty has recorded an unprecedented rise in cases of enforced disappearance and torture in Egypt.
Beginning next month, Amnesty and the University and College Union have organised a series of high-profile public meetings at UK universities to highlight the need for Regeni's killers to be brought to justice. 
Starting with an event at Regeni's own institution,
Cambridge University
on 14 February, there will be further events at the
University of Manchester
(28 February), the
London School of Economics
(2 March), the
University of Warwick
(7 March) and the
University of Leeds
(22 March). The university campaign will be launched at a 13 February
panel event
at Amnesty International UK's east London headquarters.
Regeni was an Italian national originally from Trieste and the Cambridge event at King's College will feature a speech by Dr Antonio Marchesi, president of Amnesty International Italy, which has run a high-profile "Verità per Giulio Regeni" campaign and is organising a national rally for Regeni in Rome on 25 January. Dr Marchesi, himself an expert on international human rights law, will be speaking about the implications of Regeni's case for efforts to secure justice for victims of human rights violations in a "transnational context". 
Dr Antonio Marchesi said:
 

"We will campaign for justice and truth for Giulio for as long as it takes.

 

"Neither we or his family are willing to be fobbed off with false accounts of what happened to Giulio, or with mere fragments of the truth. We need to see everyone responsible for Giulio's killing - as well as those who seem to have acted to cover it up - brought to justice."
Shane Enright, Amnesty's trade union campaigner said:
"Giulio's terrible fate has been mirrored in countless other cases of enforced disappearance in Egypt. We want accountability, an end to impunity, and an end to these dreadful cases of disappearance and torture in Egypt."
UCU General Secretary Sally Hunt said: 
"Trade unionists and students will be working together at a host of events in UK universities to demand truth and justice for Giulio, and for all of Egypt's disappeared. UCU will continue to work with Amnesty and others to shine a light on what is happening in Egypt."
Unions and students mobilised
The Amnesty and University and College Union initiative comes after a series of solidarity events from students around the world. Last year, "Verità per Giulio Regeni" banners were carried on the annual May Day rally in central London, while Cambridge University and Cambridge City Amnesty groups have organised numerous events, including a large-scale mass rally in Cambridge attended by hundreds of supporters, including friends and former colleagues of Regeni's from Cambridge University. The Amnesty/UCU events are part of a joint three-month campaign bringing students and educators together. 
Cambridge Amnesty's 3 February vigil
Amnesty International's Cambridge City group is holding a vigil in Cambridge on 3 February (6-6.30pm, in front of Great St Mary's Church, Market Square, CB2 3PQ) to mark the one-year anniversary of the discovery of Giulio Regeni's body. The group is also holding a follow-up event the following day (again in the Market Square, 10.30am-1pm).
Hundreds disappeared, many tortured
There has been an unprecedented spike in enforced disappearances in Egypt since early 2015. Egypt's National Security Agency has been abducting, forcibly disappearing and torturing people to intimidate opponents and wipe out peaceful dissent. Hundreds of students, political activists, protesters and even children as young as 14 have vanished without a trace at the hands of the security forces. There are indications that Regeni too may have been abducted by members of the Egyptian security apparatus. 
Amnesty has documented harrowing accounts of the torture of victims during interrogation sessions lasting up to seven hours in order to extract "confessions" later used as evidence against them at trials. In some cases, those tortured have been children. Torture has ranged from beatings, electric shocks, rapes and the use of suspension in stress positions for long periods. There have also been a series of deaths in custody as a result of torture and a lack of access to life-saving medical care. For further information, go
here
.