New play on Nazanin Zaghari-Ratcliffe in running for Edinburgh Fringe award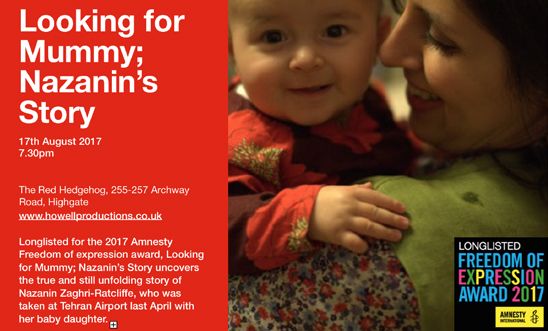 The play has a London preview night followed by a week at the Edinburgh Fringe © Emi Howell
'Our story is the stuff of nightmares' - Richard Ratcliffe
Amnesty International has selected a new play about Nazanin Zaghari-Ratcliffe as a possible recipient of its International Freedom of Expression Award (see below) at the Edinburgh Festival.
The play - "Looking for Mummy: Nazanin's Story", which is being performed at the Edinburgh Fringe during 20-27 August - tells the true story of the 38-year-old British charity worker's arrest while on a family holiday in Iran last year and her anguish at being sentenced to five years in jail after an unfair trial.
The innovative work, by playwright Emi Howell, uses Ms Zaghari-Ratcliffe's own words as well as those of her husband, Richard, who has staged a high-profile campaign calling for her release. 
In particular, Looking for Mummy highlights the separation of Zaghari-Ratcliffe from her three-year-old daughter Gabriella. Zaghari-Ratcliffe, a UK-Iranian dual national, saw her daughter taken away from her after her arrest and Gabriella is currently being looked after by her grandparents in Iran and only able to visit her mother in Evin Prison in Tehran twice a week. 
Earlier this month, during a visit to Iran the Foreign Office minister Alistair Burt reportedly raised Zaghari-Ratcliffe's case alongside that of other UK-Iranian dual nationals detained in Iran, including Kamal Foroughi, a 77-year-old businessman. Amnesty has repeatedly called on the UK Government to insist on the immediate release of both Zaghari-Ratcliffe and Mr Foroughi, though ministers have never publicly called for Zaghari-Ratcliffe's release and have only rarely mentioned the need for Foroughi to be freed. 
Richard Ratcliffe said:
"Our story is the stuff of nightmares - a family holiday to visit relatives abruptly ending - in prison, isolation and crazy charges; the days become months with seemingly no way out. 

"Thank you to the cast and crew of Looking for Mummy for sharing so sensitively the story of Nazanin's todays, and for putting on a performance that helps keep her tomorrows alive. 

"Thank you to all of you who come to see it, and who help keep her in the light."
Naomi McAuliffe, Amnesty International's Scotland Programme Director, said:
"Nazanin's story is truly horrific which is why we are campaigning throughout the Edinburgh Festival Fringe this year to free her and fellow British-Iranian Kamal Foroughi, who is also imprisoned in Iran under very dubious circumstances. 

"We want to see Nazanin and Kamal reunited with their families and will continue to campaign until this is a reality. We are delighted that Looking For Mummy: Nazanin's Story has been longlisted for this year's Amnesty International Freedom of Expression Award."
Arrested while on family holiday
Ms Zaghari-Ratcliffe was arrested at a Tehran airport in April 2016 prior to boarding a plane back to Britain following a family visit to Iran. After being detained for over five months, initially in solitary confinement, Zaghari-Ratcliffe was subjected to an unfair trial and sentenced to five years in prison after being convicted of "membership of an illegal group". The charges appear to relate to Zaghari-Ratcliffe's employment at Thompson Reuters Foundation, a charity organisation, as well as her past work as an administrative assistant on a BBC Media Action project to train young journalists. Amnesty believes Zaghari-Ratcliffe is a prisoner of conscience and is calling on the Iranian authorities to release her immediately and unconditionally.
Fringe dates and preview night in London
Looking for Mummy at the Edinburgh Fringe on 20-27 August:
C Cubed, C Venues, Venue 50 - at 7.55pm
Tickets available at: www.cthefestival.com/2017/looking-for-mummy-nazanins-story 
There will be a preview production in London on Thursday 17 August:
The Red Hedgehog, 255-257 Archway Road, Highgate, London - 7.30pm
Tickets available via: howellproductions1@gmail.com
Freedom of Expression Award
For more than 15 years, the Amnesty International Freedom of Expression Award has highlighted the very best of the Edinburgh Festival Fringe human rights-themed theatre. The award is made to a production that shines a spotlight on an issue relevant to Amnesty's human rights campaigning while also inspiring activism or action. The 2016 award went to Cora Bissett and David Greig's "The Glasgow Girls", based on the inspirational true story of schoolgirls who became human rights campaigners for their classmate who had experienced unfair treatment at the hands of the Home Office. For 2017's full longlist, go here.