Freedom of Expression Award 2017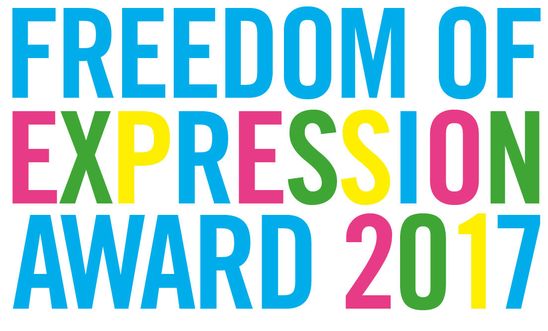 The Freedom of Expression Award honours an Edinburgh Festival Fringe theatre production of excellent artistic merit that builds understanding and raises awareness about human rights in an inspirational way. Around 70 longlisted productions are reviewed by a team of volunteer reviewers and a panel of professional theatre critics.
The 2017 longlist for the Amnesty International Freedom of Expression Award includes:
1000 Cranes
Action at a Distance
Adam
Arab Arts Focus: Dance Double Bill
An Arrangement of Shoes
Assessment
The B*easts
Becoming Scheherazade
Behind Our Skin
The Believers Are But Brothers
Blurred Justice
Borders by Henry Naylor
Bump
Cathy
The Charlie Question
Deadly Dialogues
Dear Home Office 2: Still Pending
Derailed
Domestic
Edgar and Me
The Elephant, Your Majesty!
The End, the End, the End…
Eve
The Fall
Fine, Thanks
Flesh and Bone
Foreign Radical
From Today, Everything Changes
Gunshot Medley
Gypsy Queen
Home
Hopeless
I Am Faransis W
Instructions for Border Crossing
#JeSuis
Lal Batti Expres (Red-Light Express)
The Last Queen of Scotland
Last Resort
Looking for Mummy: Nazanin's Story
Love, Bombs and Apples 
A Machine they're Secretly Building
Mimi's Suitcase
Mission Abort
My Mind is Free
Nassim
Out
Out of the Bad
Ramy: In the Frontline
Requiem for Aleppo
The Runner
Rupture
Salt
Skin
The Sky is Safe
The Sleeper
Slut
Smoking with Grandma
Submission
Taha
Testosterone
Walls
Walls and Bridges
What Goes on in Front of Closed Doors
What if I told you
Woke
Women at War
Woman on Fire
Your Ever Loving 
Your Love is Fire
You've Changed
Our team of reviewers and our judging panel of theatre critics will review all longlisted shows before announcing a shortlist later in the month. 
If you are aware of a production with a strong human rights message that you think should be included, let us know by email scotland@amnesty.org.uk 
Follow our festival twitter feed for updates and to share reviews of the longlisted shows @AmnestyFest 
About Amnesty UK Blogs
Our blogs are written by Amnesty International staff, volunteers and other interested individuals, to encourage debate around human rights issues. They do not necessarily represent the views of Amnesty International.
View latest posts