New letter to David Cameron seeks answers over 'why Shaker Aamer is still in Guantánamo'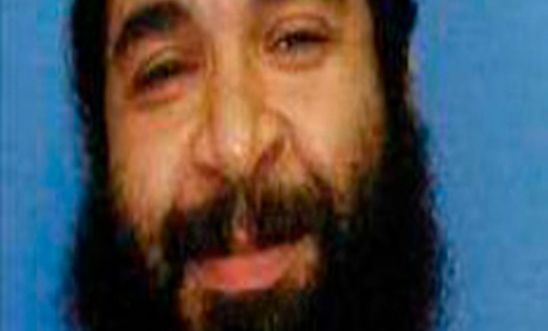 Shaker Aamer was taken to Guantánamo on 14 February 2002 © US DoD
'Shaker has been shoved down one of Guantánamo's rabbit holes' - Kate Allen
Amnesty International has written to the Prime Minister David Cameron seeking answers over why the former UK resident Shaker Aamer is still being held at the US detention centre at Guantánamo Bay in Cuba.
The 46-year-old Aamer, who is the last of the UK nationals and residents still held at the notorious detention centre, will have been held at Guantánamo for exactly 13 years this Saturday. During this time Aamer has never been charged or brought to trial, and as long ago as 2007 Aamer was "cleared for transfer" from the camp by the US authorities.
Last month Mr Cameron reportedly raised Aamer's case in face-to-face talks with US President Barack Obama in Washington, with Mr Obama reportedly saying that the US authorities would "prioritise" the case. However, nearly a month later there has been no further word on whether there is a current time-frame for arranging Aamer's release.
There is now growing urgency amongst campaigners amid reports that Aamer's mental and physical health have deteriorated significantly in the past year. Aamer, who has been held for long periods in solitary confinement and has taken part in protracted hunger strikes in protest at his incarceration, is reported to have numerous ailments and last year was diagnosed with post-traumatic stress disorder.
A new Amnesty petition calling for the UK and US authorities to urgently arrange Aamer's release unless he is charged and put on trial has gained 23,500 signatures.
Amnesty's letter to the prime minister welcomes his raising of Aamer's case in the USA last month, but asks "whether any progress" has been made over arranging his release from the camp.  
Amnesty International UK Director Kate Allen said:
"We have one simple question for David Cameron: why is Shaker Aamer still in Guantánamo?

"We keep being told that Shaker's case is being 'raised' or being 'prioritised', but he's still sitting in a cell in Cuba, 5,000 miles away from his family back here in Britain.

"Guantanamo has always been a travesty of justice, a lawless place with made-up rules and an Alice in Wonderland approach to justice and human rights.

"Shaker has been shoved down one of Guantánamo's rabbit holes - left in a legal limbo, out of sight and out of mind

"We want UK officials to tell us frankly what is causing the disgraceful and inexcusable delay in sorting out Shaker's case.

"Various allegations have been thrown around over what Shaker may or may not have done, but the bottom line is that there's been absolutely no attempt to put this man on trial for a single offence.

"It's abundantly clear that the US long ago gave up any pretence of bringing Shaker to justice. They must stop toying with this man's life and put him on the first plane back to London."
Torture allegations
Aamer was arrested by Afghan forces in late 2001 in Jalalabad, Afghanistan, and subsequently transferred to US custody. Aamer is originally from Saudi Arabia. His wife and four children are all British nationals who live in south London. Aamer had permission to live indefinitely in the UK on the basis of his marriage to a British national at the time of his original detention.
Via his lawyers, Aamer has alleged he was subjected to torture and other ill-treatment, including severe beatings, while held in secret US detention in Afghanistan in early 2002. He says that, as well as US officials, men claiming to be UK Security Service (MI5) officers were present at interrogations during which his head was "repeatedly banged so hard against a wall that it bounced".
Aamer has also repeatedly alleged that he has been tortured and otherwise ill-treated at Guantánamo. According to his lawyers, Aamer has been the subject of hundreds of "Forcible Cell Extractions" at the camp, where a team of guards in riot gear forcibly remove a detainee from their cell. Aamer speaks fluent English and his lawyers understand he has been involved in protesting against conditions at the camp, including participating in hunger strikes and speaking out on behalf of other detainees. They believe he has been subjected to prolonged isolation and frequent ill-treatment as punishment for his defiance against his indefinite detention and ill-treatment.
13 years of Guantánamo
*122 men remain at Guantánamo.
*779 detainees have been held at the US detention centre at Guantánamo since 2002.
*The last release of detainees occurred on 14 January 2015, when five Yemenis were transferred out of the detention centre.
*Over 600 detainees have been transferred from Guantánamo to other countries since 2002 without being the subject of criminal charges.
*Nine detainees have died in custody in Guantánamo.
*Guantánamo was earmarked for closure by January 2010 at the latest by President Obama shortly after his inauguration as President in January 2009.