New Amnesty podcast 'ISIS in a Nutshell' launched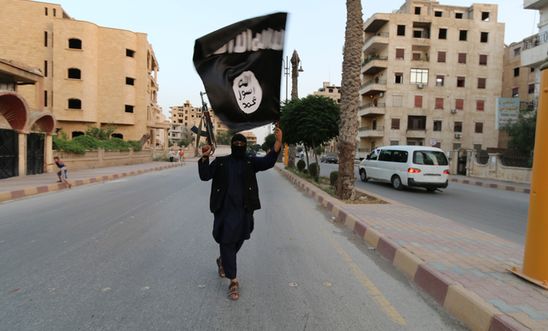 A supporter of Islamic State in Raqqa, Syria © REUTERS/Stringer
First in new series of 30-minute podcasts aims to answer key questions on the armed group
Amnesty International has launched a new podcast to answer some of the most often posed questions about the Islamic State (ISIS) armed group.
Who are ISIS? Where did they come from? How did they get so much territory so fast? What role has social media played in their rise to prominence? What do they want? What motivates their recruits?  Why is it that the Western recruits seem to carry out the worst or at least the most visible atrocities? How much does an ISIS fighter get paid? How is the group financed? What's life like as a woman living under their control? What can be done to help their victims?
These are some of the questions tackled in the podcast, the first in an ambitious new "In a Nutshell"' series from Amnesty International UK which aims to give the listener a broad understanding of a complex human rights-related issue in 30 minutes.
The podcast includes incisive interviews with:
Donatella Rovera - who leads Amnesty's field investigations into life under ISIS, explains how the group has captured large amounts of territory and why it seems to have experienced relatively little opposition.
Kristyan Benedict - Amnesty's UK Crisis Response Manager talks about financial versus ideological incentives for ISIS "soldiers" and how the group has used social media to appeal to recruits in the West.
Professor Peter Neumann - Professor of Security Studies at the Department of War Studies, King's College London, and serves as Director of the International Centre for the Study of Radicalisation. He was also senior adviser on the UN Security Council resolution aimed at tackling ISIS introduced by US President Barack Obama.
Farah Pandith - appointed first-ever Special Representative to Muslim Communities in 2009 by then US Secretary of State Hillary Clinton and now a resident fellow at Harvard University.
Amil Khan - international political communications advisor and consultant specialising in the Middle East, who has published academic work on extremism.
Zahid Ali Akbar - Human Rights Director at The Association of British Muslims and a London-based barrister with interest in human rights and anti-terrorism law.
Listen the podcast on Soundcloud or subscribe on iTunes.
One year on from Mosul
For more on ISIS's reign of terror, see the following
"story may"
of photographs marking the one-year point since the group took control of the city of Mosul in northern Iraq.