Nazanin Zaghari-Ratcliffe: 'likely conviction' threat is another body blow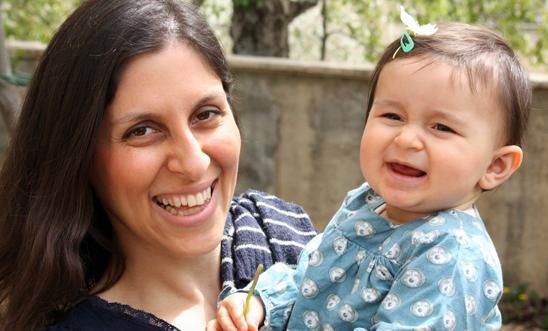 Nazanin Zaghari-Ratcliffe has been in jail in Iran for more than two years, during which time her young daughter Gabriella has been forced to stay in the country © Free Nazanin
'This will be incredibly upsetting for Nazanin and her family' - Kerry Moscogiuri
Responding to reports that a judge in Iran has told the jailed UK-Iranian dual-national Nazanin Zaghari-Ratcliffe that he "expects that she will be convicted" on a new charge of "spreading propaganda against the regime", Kerry Moscogiuri, Amnesty International UK's Campaigns Director, said: 
"This is yet another body blow for Nazanin.
"This will be incredibly upsetting for Nazanin and her family.

"Nazanin has already been subjected to a blatantly unfair trial and sentence, and a string of unfounded accusations in the Iranian media.

"We urge the UK Government - including the Foreign Secretary Boris Johnson - to now significantly escalate their response to Nazanin's plight. We need to hear ministers calling for this bogus new case to be dropped and for Nazanin to be released. 

"Nazanin is a charity worker not a criminal, and the Iranian authorities should finally do the right thing - release her and allow her to come back to Britain with her young daughter."
Arrested during family visit more than two years ago
Nazanin Zaghari-Ratcliffe, 39, a British-Iranian dual-national, was arrested at a Tehran airport on 3 April 2016 prior to boarding a plane back to the UK after a regular family visit to the country with her infant daughter Gabriella. After being detained for over five months, initially in solitary confinement for 45 days without access to a lawyer, Ms Zaghari-Ratcliffe was sentenced to five years in prison in September 2016 after being convicted of "membership of an illegal group" in a grossly unfair trial by a Revolutionary Court in Tehran. 
The conviction was in connection with her employment at Thomson Reuters Foundation, a charity organisation, as well as her past work as an administrative assistant with BBC Media Action. The sentence was upheld on appeal last year and her subsequent request for judicial review denied.
Zaghari-Ratcliffe is currently held in Tehran's Evin Prison, where her requests for periods of temporary release - for which she has been eligible - have been repeatedly denied. 
She is suffering from numerous health problems - including severe arm, neck and back pain. There have also been serious concerns over her mental state. Amnesty has designated her a prisoner of conscience targeted solely for the peaceful exercise of her rights to freedom of expression and association, and has called on the Iranian authorities to release her immediately and unconditionally.