Myanmar: Reuters journalists' rejected appeal a tragic denial of justice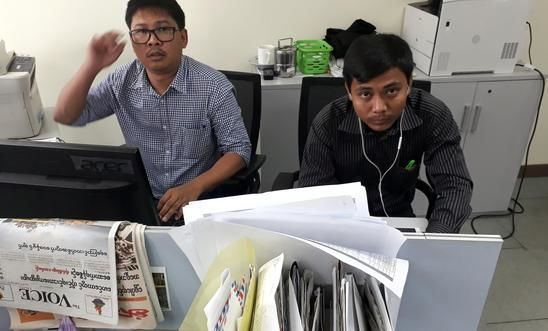 Responding to the decision by Myanmar's Supreme Court to uphold the conviction and seven-year prison sentence of Reuters journalists Wa Lone and Kyaw Soe Oo, Nicholas Bequelin, Amnesty International's Regional Director for East and Southeast Asia, said:
"The Supreme Court's rejection of Wa Lone and Kyaw Soe Oo's appeal compounds a grave injustice and marks a dark day for press freedom in Myanmar. This case shows the authorities' resolve to ensure there can be no independent reporting on the military's atrocities in Rakhine State – even at the cost of debasing the country's judicial system.
"Wa Lone and Kyaw Soe Oo are not isolated cases. In recent weeks, we have seen a disturbing surge in the number of people being arrested on politically motivated charges, most of them for criticism of the military.
"Ahead of the 2020 general election, the international community must put much more pressure on the government to immediately and unconditionally release all prisoners of conscience and amend or repeal the oppressive laws that are being used to curtail freedom of expression."