Myanmar: Fresh air strikes highlight urgent need to suspend aviation fuel exports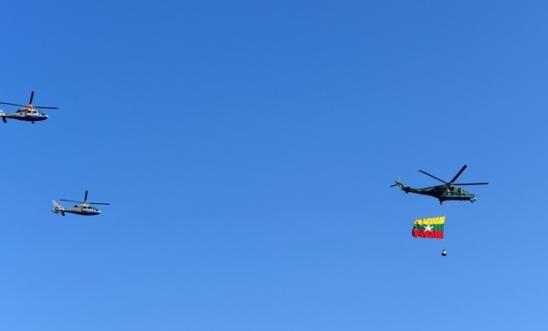 © AFP via Getty Images
Civilian casualties, including children, from attack in Sagaing Region earlier today
UN must refer Myanmar to ICC over war crimes
'Myanmar's civilians bear the brunt of these sickening tactics' - Montse Ferrer
Responding to reports of deadly air strikes in Myanmar's Sagaing Region earlier today, Montse Ferrer, Amnesty International's Business and Human Rights Researcher, said:
"Initial reports of deadly air strikes in Sagaing Region are horrifying.

"Unlawful air attacks killing and injuring civilians and destroying homes are a trademark of the Myanmar military, which goes to despicable lengths to crush resistance and instil fear in the population.

"Myanmar's civilians bear the brunt of these sickening tactics.

"The relentless air attacks across Myanmar highlight the urgent need to suspend imports of aviation fuel.

"Amnesty reiterates its calls on all countries and businesses to stop shipments that may end up in the hands of the Myanmar Air Force.

"This supply chain fuels violations of international humanitarian law, including war crimes, and it must be disrupted in order to save lives.

"The UN Security Council must find ways to push through effective actions to hold the Myanmar military accountable, including by referring the situation in the country to the International Criminal Court."
Myanmar's military carried out air strikes this morning on a village in Kanbulu township in Sagaing Region, according to initial reports and social media footage. An unknown number of people, including children, are believed to have been killed in the attack. Amnesty has not been able to independently verify the details. Amnesty has documented widespread human rights violations in Myanmar since the 1 February 2021 coup, including war crimes and possible crimes against humanity as part of the military's crackdown on the opposition across the country.
Aviation fuel campaign
Last November, Amnesty launched a campaign calling for the suspension of aviation fuel exports to the country to prevent the Myanmar military from carrying out further unlawful air strikes. The campaign has identified companies involved in the aviation fuel supply chain across the country.
This year, on the eve of the coup's two-year anniversary, several countries imposed further sanctions focused on the aviation fuel industry. Canada moved to prohibit the export, sale, supply or shipment of aviation fuel to the Myanmar military and the UK announced sanctions targeting two Myanmar companies and two individuals identified by Amnesty as playing an essential role in importing, handling and transporting aviation fuel to the Myanmar military. Last month, the UK announced a second round of sanctions targeting individuals and companies identified by Amnesty. The European Union and the US have also announced sanctions targeting various individuals and entities that have played a role in the importation, storage and distribution of aviation fuel to the Myanmar military.