Myanmar: Filmmaker on trial facing 'vindictive' charges for Facebook posts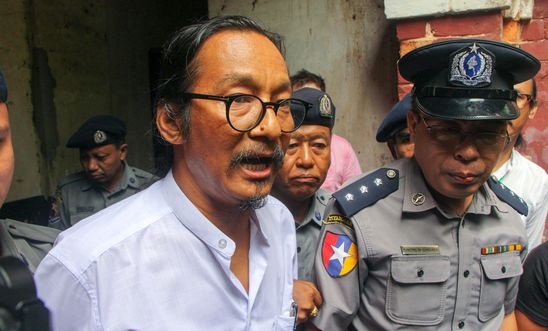 Min Htin Ko Ko Gyi © Thuya Zaw: Frontier Myanmar
All charges against a filmmaker on trial today for Facebook posts critical of the Myanmar military must be dropped immediately and unconditionally, Amnesty International said.
Min Htin Ko Ko Gyi is a prominent filmmaker and founder of the Human Dignity Film Institute and the Human Rights, Human Dignity International Film Festival in Myanmar.
He was arrested on 12 April after a Myanmar military official accused him of defamation for a series of Facebook posts critical of the military-drafted 2008 Constitution and the military's role in politics.
Min Htin Ko Ko Gyi is being detained in Yangon's Insein prison, where he has been held for more than three months since his arrest. He has been denied bail, despite suffering liver cancer and undergoing a major operation earlier this year.
Nicholas Bequelin, Amnesty International's East and Southeast Asia Director, said:
"Min Htin Ko Ko Gyi is the latest in a long line of Myanmar activists targeted for criticising the Myanmar military.

"Peaceful comments on Facebook are not a crime, even if they criticise officials, and his is yet another politically-motivated trial. The authorities should drop these vindictive charges, and Min Htin Ko Ko Gyi must be immediately and unconditionally released.

"We remain deeply concerned about his health in detention, as he recovers from his battle with liver cancer. Min Htin Ko Ko Gyi should be celebrated for his human rights work, not wallowing in prison without appropriate care."
Min Htin Ko Ko Gyi was initially accused of "online defamation" under Section 66(d) of the 2013 Telecommunication Act. Several days later, the same officer who had lodged the initial proceedings filed a second complaint under Section 505(a) of Myanmar's Penal Code, which prohibits the circulation of statements or reports which could cause a soldier or other member of the Myanmar military to "mutiny or otherwise disregard or fail in his duty".
If found guilty and convicted of the 505(a) charge, Min Htin Ko Ko Gyi faces a maximum sentence of two years in prison. The complaint under Section 66(d) – which also carries a maximum of two years in prison – remains pending.
The Myanmar authorities continue to arbitrarily arrest, detain and prosecute activists and human rights defenders simply for peacefully exercising their right to freedom of expression.