Myanmar: 'Appalling' sentencing of anti-war protesters must be overturned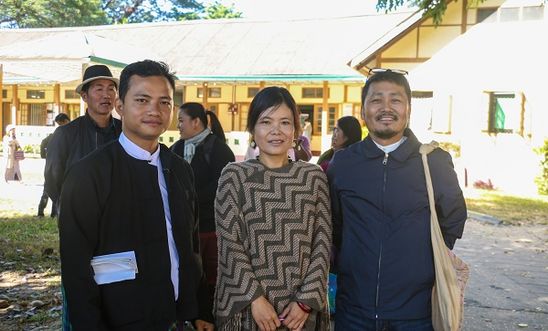 The guilty verdicts handed to three activists today for their role in a peaceful protest in Myanmar must be overturned, Amnesty International has said.
A court sentenced Lum Zawng, Nang Pu and Zau Jet to six months imprisonment and a fine of 500,000 MMK (£250) each. On 3 September, the three peaceful activists were charged with defamation of the Myanmar military after a rally in Myitkyina, the capital of Kachin State.
Tirana Hassan, Amnesty International's Director of Crisis Response, said:
"Today's appalling verdict against three peaceful activists shows the government's determination to silence any criticism of their actions in this deadly conflict – and repress any peaceful opposition to the military whatsoever.

"These jail sentences reflect a pattern of continued attacks, intimidation, threats and prosecutions against human rights defenders, journalists and community leaders who peacefully speak out in defence of civilian victims of military operations.

"It sends a chilling warning to any humanitarian actor or activist who wants to tell the truth about the Myanmar military's brutality in Kachin and northern Shan states, and beyond.

"These activists made a peaceful call for humanitarian aid to vulnerable civilians trapped in a conflict zone. The convictions should be overturned and the three released immediately. They should be commended, not punished."
Background
The charges relate to statements they made at a peaceful rally in Myitkyina on 30 April this year and at a press conference the next day, following major escalation in fighting in early April 2018 between the Myanmar military and the Kachin Independence Army (KIA), an ethnic armed group in Kachin State.
The fighting displaced more than 5,000 civilians, 2,000 of whom were trapped for several weeks in a forest near the village of Aung Lawt, without access to humanitarian assistance or safe passage from the conflict-affected area.
Since 2011, more than 100,000 people have been internally displaced across the conflict-affected areas of northern Myanmar, many of them displaced multiple times.