MPs challenge Government on unfair rules for refugee families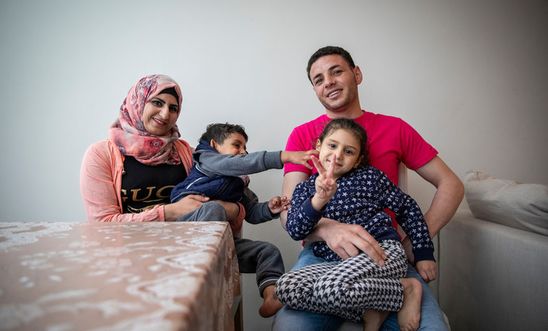 Rahaf, 25, and Monther, 30, from Syria and their children Aseel and Mohammad at their home in London, 10 June 2019 © Amnesty International
Pressure grows on Government to make it easier for refugee families to reunite
Government criticised for 'mean spirited approach'
MPs from across the political spectrum have today urged the Government to make changes to rules on refugee family reunion, which they argue are keeping refugees in the UK apart from their closest family members.
Conservative MP Bob Neill said the Government "has a very good track record" on resettling refugees but that he found it "a little jarring that we have a restriction which prevents children who have come here lawfully as refugees ... from being able then to bring their closest relatives to come and support them."
He added that the Government should not "put a needless stain on our reputation" by taking a "mean-spirited approach" towards a "relatively small number of people".
Wera Hobhouse, the Liberal Democrat MP for Bath, said: "In previous debates we have drawn attention to refugee children and particularly the fact that they cannot sponsor a relative to come over, unlike in other countries ... That's really deplorable and adds to the trauma that these children are already facing."
The passionate exchanges occurred during a backbench business debate in the House of Commons today to mark World Refugee Day. It comes a day after the UN refugee agency revealed that there are now more than 70 million forcibly displaced people in the world including 26 million refugees – the highest number in almost 70 years.
The debate was led by Angus MacNeil, SNP MP for Na h-Eileanan an lar, who said that the Refugee Family Reunion Bill he introduced last year had been "choked by the Government" despite "voices from across the political spectrum supporting the Bill" – something he said was "shameful". He added that refugees "come here to avoid being killed - not to be a magnet for the rest of the family."
Immigration Minister Caroline Nokes responded: "We do recognise the importance of family reunion … I am sympathetic to the view that we should consider carefully how we might expand our family reunion schemes." So far the Government has resisted any change to the rules, which the Home Secretary has the power to change without further legislation.
David Drew, the Labour MP for Stroud, said: "Those Syrians that many of our communities have accepted are desperate to bring their families in, and it would be very right and proper if the Government was to encourage that rather than to put hurdles in the way."
Mr MacNeil introduced a Private Member's Bill on family reunion in February 2018 and it passed its second reading the following month with cross-party support. The Bill has stalled in the Commons due to delays from the Government in granting a money resolution and lack of parliamentary time.
The Bill seeks to allow refugee children in the UK to sponsor their close relatives to come to the UK, expand the criteria so that young people who have turned 18 and elderly parents can join relatives in the UK, and reintroduce legal aid for family reunion applications.
It is supported by the Families Together campaign, which brings together more than 30 organisations supporting refugees in the UK and overseas, including Amnesty International UK, British Red Cross, Oxfam, Refugee Council and UNHCR.
After the debate, Lucy Wake, Amnesty International UK's Government Relations and Political Manager, said:
"MPs from across the political spectrum have come together once again to demand the Government take urgent action on reuniting refugee families - calling for a change to the cruel and damaging rules which are keeping children apart from their parents and siblings.
"Today, on World Refugee Day, the Minister has made clear that she is listening to both NGOs and Parliament and will consider how the Government can expand the rules to reunite more refugee families. Amnesty, as part of the Families Together coalition, would welcome a meeting with the Minister to discuss the simple yet life-changing fix to the current rules to ensure families are no longer needlessly kept apart."
Dr Lisa Doyle, Director of Advocacy at the Refugee Council, added:
"Day in, day out we see first-hand the truly harmful effects of restrictive refugee family reunion policies on refugees in the UK. For refugees who have survived war, conflict and persecution, being kept apart from loved ones who remain miles apart overseas can feel simply too hard to take. Bob Neill MP is quite right to describe these policies as 'mean spirited' – we would also highlight that the Home Secretary could amend these rules in an instant, with the stoke of a pen, and we urge him to do so."
Mr MacNeil warned that he expects the issue to return to the Commons, saying: "Time in politics is short and time in Government is even shorter and things could have been done that haven't happened … This will not be the only time that I expect this [Bill] to come forward again".