Malta: Refugee boat finally allowed to dock after European government's 'inhumane failure'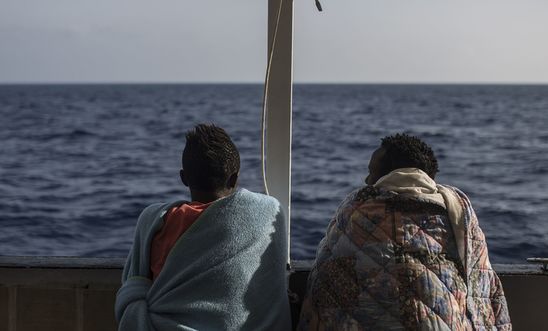 igrants look at the sea from the deck of the NGO Proactiva Open Arms boat on July 2, 2018 © OLMO CALVO/AFP/Getty Images
Responding to news that Malta will allow two ships that have been stranded at sea for almost three weeks with 49 people on board to dock, Elisa De Pieri, Amnesty International's Researcher on Southern Europe, said:
"After nearly three weeks of being tossed around in stormy seas, these women, men and children are now safely on dry land - but the fact it took so long is shameful.
"The Italian and Maltese authorities have brazenly undermined the search and rescue system and used people as pawns to negotiate migration policies. But their callous disregard for peoples' safety has been bolstered by European leaders' inhumane failure to assist these people promptly.
"European member states must no longer turn their backs on people stranded at sea, urgently agree on a swift and predictable disembarkation policy in line with international law, and on a fair system to distribute asylum-seekers among EU countries."