Maldives: Human rights group shut down for 'slandering Islam'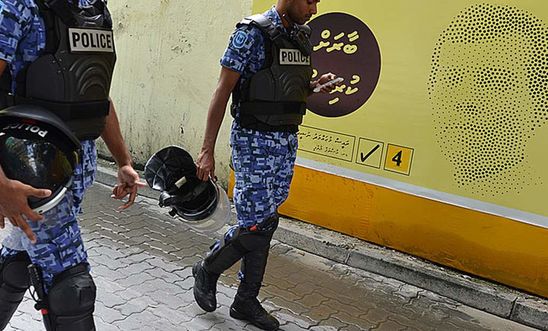 © Ishara S.KODIKARA/AFP via Getty Images
Closure comes after threats against NGO's staff by religious hardliners
'The Maldives Democracy Network is being punished for exercising its legitimate right to freedom of expression' - Dinushika Dissanayake
The Maldivian Government's closure of a widely-respected human rights group for "slandering Islam" has been strongly condemned by Amnesty International.
The organisation was shut down earlier today by the Maldivian Ministry of Youth, Sports and Community Empowerment, which regulates the activities of NGOs in the country.
On 10 October, the Maldivian Ministry of Foreign Affairs announced it had temporarily suspended Maldives Democracy Network's operations, alleging that the content of a 2015 report by the NGO contained "content slandering Islam and the Prophet Mohamed".
The closure comes after a series of threats by religious hardliners against Maldives Democracy Network staff, including its director Shahinda Ismail.
Dinushika Dissanayake, Amnesty International's South Asia Research Director, said:
"The Maldives Democracy Network is being punished for exercising its legitimate right to freedom of expression.

"The fact that a more than four-year-old report is being cited now as grounds to shut down the NGO raises suspicions as to the true motives behind this decision. Is the new government just as intolerant of critical voices as the one it replaced?

"The Maldivian authorities must immediately reverse this decision, investigate threats made against Maldives Democracy Network staff, offer Maldives Democracy Network staff protection, and create a tolerant and enabling environment that allows NGOs to continue their important work freely and without fear."
Maldives Democracy Network outspoken on past abuses
The Maldives Democracy Network is a non-partisan NGO whose reports over recent years have included research on police reforms, torture, threats to human rights defenders, threats to freedom of expression, disappearances and attacks on lawyers.
The group was one of the most prominent NGOs speaking out against repression under former Maldivian President, Abdulla Yameen, who was voted out of office last year. The new government, led by President Ibrahim Solih, includes former prisoners of conscience whose release Amnesty and the Maldives Democracy Network had campaigned for.