Macedonia: thousands trapped and at risk of violence after border sealed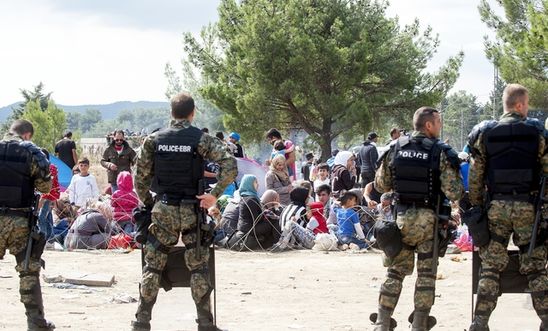 People waiting to cross the Macedonian-Greek border near the town of Gevgelija earlier today © AFP/Getty Images
'The Macedonian authorities are responding as if they were dealing with rioters rather than refugees who have fled conflict and persecution' - Gauri van Gulik
Thousands of mainly Syrian, Afghan and Iraqi refugees and asylum-seekers are trapped and face a serious risk of violence after the Macedonian authorities sealed the country's southern border yesterday, creating a new crisis zone amid the global refugee crisis, Amnesty International said today.
The situation rapidly deteriorated when the Macedonian government declared two border areas "crisis regions", closed the southern border crossing with Greece just outside the town of Gevgelija, and called in military forces. 
Amnesty has received extremely worrying reports that anti-terrorism police have used beatings and riot-control agents, and even fired in the air to prevent people from crossing into Macedonia. Barbed-wire fences have also been erected along the border.
A witness on the Greek side of the border told Amnesty that Macedonia's Rapid Reaction Unit, an anti-terrorist police unit, had been beating refugees and asylum-seekers who were trying to enter Macedonia, and firing over their heads. A local NGO confirmed the use of rubber bullets. Media reports and video have surfaced of Macedonian police using riot-control agents and truncheons to beat people who did not seem to be posing any threat. The Ministry of Interior has issued a statement saying that stun grenades had been used. 
A Syrian man who spoke to Amnesty from near Eidomeni on the Greek side of the border says that in the past two days the Macedonian military have prevented around 1,000 people in that area - including families and small children - from crossing the border. Groups of around ten Macedonian troops in military uniform were positioned about every 50 metres along the border. 
Amnesty is calling on the Macedonian authorities to ensure that any police and military forces deployed along the border respects international law and standards on the use of force and firearms. Instead of sealing off the border, the Macedonian and Greek authorities should focus on providing shelters, food, clothing and healthcare, with help from the international community if needed.
Amnesty International's Europe Deputy Director Gauri van Gulik said:
"The Macedonian authorities are responding as if they were dealing with rioters rather than refugees who have fled conflict and persecution.

 

"If the reports of beatings and firearm use by the security forces are true, this would mark a very dangerous escalation of an already tense situation. 

 

"Every country has the power to patrol its own borders, but this kind of para-military response is an unacceptable push-back in violation of international law. 

 

"All countries have a duty to protect those fleeing conflict and persecution, and Macedonia is no exception. When the system cannot cope, you improve the system - you don't just stop people from coming in."
Fears of a growing crisis
With more than 1,000 asylum-seekers and refugees seeking entry into Macedonia every day in order to board trains in Gevgelija, there are growing concerns that the crisis could rapidly deteriorate. Many of those arriving are in poor health and need medical assistance - which has been provided up until now by the Macedonian Red Cross. According to the Macedonian NGO Legis, which provides aid to refugees at Gevgelija train station, many of those arriving from Syria show signs of injuries sustained as a result of the armed conflict. 
It appears there is little medical assistance available to those trapped on the Greek side of the border. The Syrian refugee Amnesty interviewed said he and others had not eaten for two days, and are in desperate need of food, medical assistance and shelter. 
Amnesty is urging the Macedonian authorities to live up to its international obligations towards refugees and asylum-seekers, including by:
Allowing those who want to seek asylum in the country to do so and provide them access to a prompt and effective refugee status determination process 
Refraining from any excessive use of force against refugees and asylum-seekers
Providing shelter, food, clothing and healthcare
Ensuring effective reception conditions that allow for the identification and assistance of unaccompanied children and other vulnerable individuals
Macedonia: transit not asylum
On 19 June, amendments to Macedonia's Law on Asylum were introduced with the intention of increasing access to asylum. They enabled asylum-seekers to register at the border and provided them with a 72-hour pass to remain legally in the country in order to access the asylum system, with the right to use health services and public transport. However, most asylum-seekers used this pass to travel through Macedonia and onwards through Serbia, into Hungary. Their journey through the country was assisted by the authorities, who provided subsidised trains from Gevgelija, just over the Greek border, to Tabanovce, on the border with Serbia.
These measures, according to the government, aimed to protect asylum-seekers in Macedonia from attacks by armed gangs, exploitation by smugglers - including kidnapping for ransom - and from the dangers of walking along the railway lines while moving through Macedonia, where 29 people have been killed by trains to date.  All of this provided asylum-seekers with a safe and legal route through Macedonia: only 47 people, 37 of them Syrian nationals, applied for asylum between 20 June and 17 August, despite thousands passing through the country in that time period. 
Amnesty has previously documented the failures of the asylum system in Macedonia. A meagre ten people received asylum in 2014, and none in any other year since 2009. This month, UNHCR, the UN Refugee Agency, advised that asylum-seekers should not be returned to Macedonia, on the basis that the system was still unable to provide international protection.