London: Streets around Chinese Embassy to be 'renamed' Tiananmen Square on anniversary of crackdown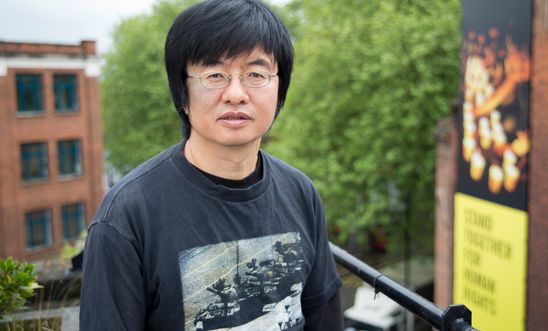 Dr Shao Jiang will be available for interview.
Amnesty International activists will 'rename' the streets surrounding the Chinese Embassy in London next week to mark the 30th anniversary of the notorious Tiananmen Square crackdown.
On Tuesday 4 June, a total of 30 authentic-looking 'Tiananmen Square' street signs will be displayed in the streets around the embassy in central London to mark the anniversary.
Amnesty UK Director Kate Allen and Dr Shao Jiang - one of the original student protest leaders who was in Tiananmen Square on the night of 4 June - will place a 'Tiananmen Square' sign immediately outside the Chinese Embassy building.
What: symbolic 'Tiananmen Square' street renaming
When: Tuesday 4 June 2019, 10am
Where: Chinese Embassy in London, corner of Portland Place and Weymouth Street, W1B 1JL
Who: Tiananmen survivor Dr Shao Jiang and Amnesty UK Director Kate Allen
Dr Shao Jiang said:
"I will never forget the events of that night, and we must ensure the world always remembers those who suffered in the fight for democracy, human rights and freedom.

"The Chinese government wants to pretend the bloody massacre never happened - but we will not rest until we have the truth independently investigated and those responsible brought to justice.

"With every year that passes, achieving justice becomes even more difficult for family members of the thousands who were killed, injured or imprisoned in Beijing and across China – but we must always stand together and keep fighting for justice, for them and for us all.

"Along with Amnesty, we will remember the 'Tank Man' who showed us the hope and dignity of humanity, whose spirit keeps inspiring us in our struggles ahead."
Kate Allen said:
"Thirty years after the crackdown in Tiananmen Square, there is still no remembrance or acknowledgement allowed in mainland China.

"But we remember the bravery of those who protested in Tiananmen, and we stand in solidarity with brave Chinese human rights defenders still campaigning for justice today.

"A new generation of Chinese human rights activists are keeping the flame of the Tiananmen protests alive, and we celebrate their ongoing defiance."
Later on the evening of 4 June, activists will also hold a candlelit vigil outside the Chinese Embassy from 8pm to 10pm.
Ongoing Tiananmen repression
Any reference to the Tiananmen crackdown is still systematically censored in China, and anyone who seeks to commemorate the victims does so at great personal risk. 
Earlier this week, Amnesty warned that the Chinese authorities are targeting those seeking to commemorate the victims of the crackdown. In recent weeks, police have detained, placed under house arrest or threatened dozens of activists and relatives of those killed seeking to mark the June 4 anniversary.
Dr Shao Jiang
Dr Jiang was actively involved in student movements from 1985 to 1989 when he was a student at Beijing University. On 17 April 1989, he drafted a list of demands with his fellow students. Later the demands became one of the main manifestos of the 1989 pro-democracy movement.
In the evening of 3 June, he witnessed the killings in West Chang'an Avenue, before rushing back to Tiananmen Square to warn fellow protesters of what was coming, pleading with the 'Four Gentlemen' protest leaders - including Liu Xiaobo - to retreat by negotiating with army leaders. He was among the last group of protesters to leave the square in the early morning of 4 June.
Dr Jiang was jailed for 18 months in a series of provincial and national prisons during 1989-91, and again detained and put under house arrest for his involvement in civil resistance between 1994 and 1997. He fled China in 1997 and has been in the UK since 2003.