Remember/Resist: June 4th Massacre 30 Years On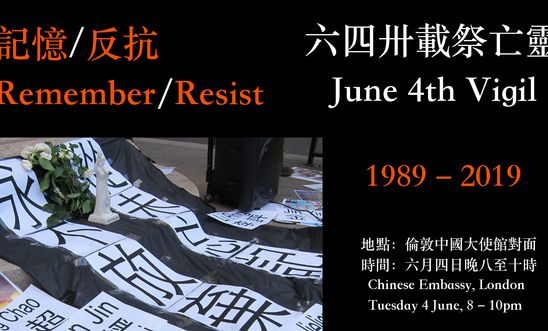 To mark the 30th anniversary of the 1989 pro-democracy movement and the bloody massacre on 4 June, we will be holding a candlelit vigil at the Chinese Embassy in London on Tuesday 4 June, 8–10 pm.
We reiterate our demands on the Chinese regime:
truth for June 4th;

massacre on trial;

end autocracy;

democracy now!
Please join us on Tuesday 4 June at Chinese Embassy, 49 Portland Place, London, W1B 1QJ.
Organised by UK Committee to Commemorate June 4th Massacre
About Amnesty UK Blogs
Our blogs are written by Amnesty International staff, volunteers and other interested individuals, to encourage debate around human rights issues. They do not necessarily represent the views of Amnesty International.
View latest posts