London panel event with Syrian women campaigning for detainees and the 'disappeared'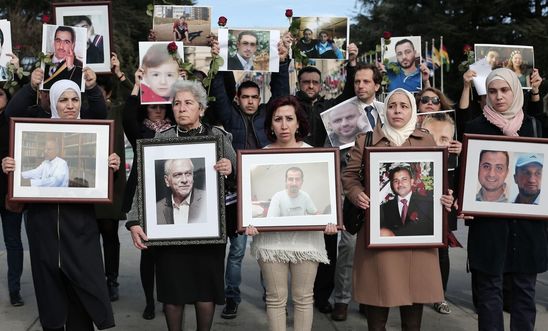 The event is the first time members of Families for Freedom will speak to an audience in the UK
LONDON, MONDAY 9 OCTOBER 2017
'No-one is free until we're all free'
Amnesty International UK and The Syria Campaign are hosting an event with a prominent group of Syrian women in London on Monday 9 October to highlight the plight of thousands of detainees and those "disappeared" in Syria.
The event - a panel discussion followed by informal drinks reception - will see the activist Families for Freedom group speaking to a UK audience for the first time. 
Speakers will include Noura Ghazi Al Safadi, widow of the prominent Syrian human rights activist Bassel Khartabil, whose extrajudicial execution in detention at the hands of the Syrian authorities in 2015 was revealed in August this year. Al Safadi is a lawyer and human rights activist whose work dates back to the period before Syria's uprising and bloody conflict.
Also speaking at the event will be: Amina Khoulani, a women's rights activist based in Lebanon who has three brothers detained by the Syrian authorities; Fadwa Mahmoud, a veteran human rights activist based in Germany who has suffered the "disappearance" of her husband and son in Syria; Dr Hala Al Ghawi, a medical doctor based in Turkey whose younger brother has been "disappeared" in Syria; Ghada Abou Mesto, an activist from Damascus whose husband is "disappeared" in Syria; Asmaa Al Saqqa, an activist (now based in Manchester) whose father is detained in Syria; and Bayan Shurbaji, an activist from Dayara (now based in Leeds) who has two brothers detained in Syria.
The event is part of Amnesty's ongoing campaign for justice for those who have suffered grievous human rights abuses during the past six-and-a-half years of unrest and conflict in Syria. 
Who: 
Dr Hala Al Ghawi, medical doctor working with Syrian refugees in Turkey
Amina Khoulani, activist working with Syrian women in Lebanon 
Fadwa Mahmoud, veteran human rights activist working on disappearances in Syria
Ghada Abou Mesto, women's rights activist from Zabadani in Syria, now in Lebanon
Noura Ghazi Al Safadi, lawyer and human rights activist in Syria
Asmaa Al Saqqa, activist from Syria, now resident in Manchester
Bayan Shurbaji, activist from Syria, now resident in Leeds
Where: Human Rights Action Centre, Amnesty International UK, 17-25 New Inn Yard, London EC2A 3EA (Shoreditch)
When: Monday 9 October 2017, 7pm (doors open at 6.45pm)
Cost: free - though please reserve a place here.