London Metal Exchange's investigation into cobalt and child labour welcomed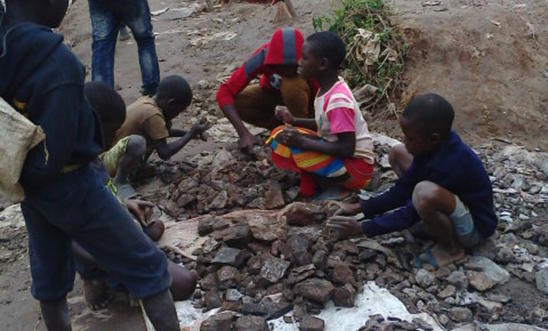 Children sorting cobalt ore in Kolwezi in the Democratic Republic of Congo © Amnesty International
Move comes week after a major Amnesty report on cobalt and child labour in the Democratic Republic of Congo
'It is unacceptable that we have to name and shame companies before they act' - Seema Joshi
Responding to reports that the London Metal Exchange has launched an investigation into whether cobalt mined by children is being traded in London, Seema Joshi, Head of Business and Human Rights at Amnesty International, said: 
"Transparency is absolutely crucial for eradicating the scourge of child labour from cobalt battery supply chains and we welcome the London Metal Exchange's pledge to shine a light into the dark corners of the cobalt trade. 

"Nearly two years ago we exposed how cobalt mined by children in the DRC is ending up in household products like smartphones and electric cars, and how too many companies don't know, or won't say, where their cobalt comes from. 

"Reports that the London Metal Exchange is demanding that companies source cobalt responsibly, and that it has launched an investigation into of one them, are welcome - these would be important steps towards ensuring that companies aren't profiting from human rights abuses.

"There are clear international guidelines for responsible sourcing and it is unacceptable that we have to name and shame companies before they act on them. 

"Companies are running out of excuses and must take responsibility for what goes into their products. Disclosing the steps they are taking to ensure their supply chains are clean and fair would be a good place to start."
The London Metal Exchange helps set prices for industrial metals, including cobalt. It has requested that members provide details of their responsible sourcing practices by 1 December.
The move from the metal trading centre follows an Amnesty report last week linking several major companies to human rights abuses in the Democratic Republic of Congo.
Abuses in Democratic Republic of Congo
On 15 November, a major Amnesty report - Time to Recharge - showed how multinational electronics and electric vehicle companies, including those based in the UK, are failing to do enough to stop human rights abuses entering their cobalt supply chains. In turn, these findings followed Amnesty research last year exposing a link between batteries used in such  products and child labour in the Democratic Republic of Congo. 
More than half of the world's cobalt, which is a key component in lithium-ion batteries, comes from the Democratic Republic of Congo, and 20% of it is mined by hand. Amnesty has documented children and adults mining cobalt in narrow man-made tunnels, at risk of fatal accidents and serious lung disease. Amnesty traced the cobalt from these mines to a Chinese processing company called Huayou Cobalt, whose products then end up in the batteries that are used to power electronics and electric vehicles.  
Earlier this year, the UK Government said it would ban all new petrol and diesel cars and vans from 2040, which is expected to lead to higher demand for cobalt batteries.