Libya: number of detained refugees and migrants soars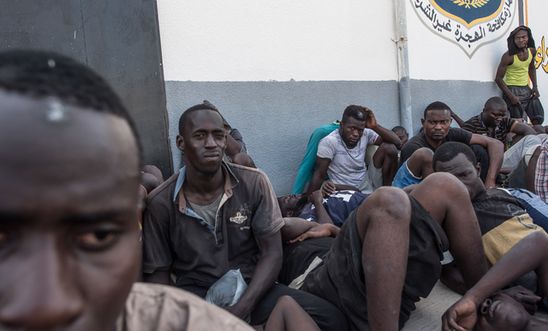 A groups of refugees and migrants in Tajoura detention centre after being taken there by the Libyan Coast Guard © TAHA JAWASHI
'The EU is turning a blind eye to the suffering caused by its callous immigration policies that outsource border control to Libya' - Heba Morayef
A surge in migrants and refugees intercepted at sea by the Libyan authorities in the past two months has seen at least 2,600 people transferred to squalid detention centres where they face torture and extortion, Amnesty International said today.
Last month alone, the Libyan Coast Guard intercepted 1,485 women, men and children at sea and brought them back to Libya, taking the total number of those intercepted to almost 5,000 in the first four months of this year, according to the International Organisation for Migration.
At least 7,000 migrants and refugees are now languishing in Libyan detention centres where abuse is rife and food and water in short supply. This is a sharp increase from March when there were 4,400 detained migrants and refugees, according to Libyan officials.
Amnesty has stressed that European governments are complicit in the abuses suffered by those detained in Libya by actively supporting the Libyan authorities in stopping sea crossings and sending people back to Libyan detention centres. Since late 2016, EU countries - particularly Italy - have implemented a series of measures to close off the migratory route through Libya and across the Mediterranean, including by increasing the Libyan Coast Guard's capacity to intercept migrants and refugees. 
Italy and other European countries have provided the Libyan Coast Guard with equipment, including at least four speedboats, as well as with training and other forms of support. Earlier this year, the Italian Coast Guard began handing over the coordination of rescue operations in international waters near Libya to the Libyan Coast Guard - a move made possible by support provided by Italian Navy ships and personnel stationed in Libya. 
Once intercepted, migrants and refugees are transferred to detention centres run by Libya's Department for Combatting Illegal Migration. These centres have become infamous for holding migrants and refugees in indefinite detention and subjecting them to serious human rights violations. 
Interviewed by Amnesty researchers, migrants and refugees have described horrific abuse -  including torture, forced labour, extortion and unlawful killings at the hands of the Libyan authorities, smugglers and armed groups. Earlier this month, Medecins Sans Frontieres warned that 800 people were being held in a "dangerously overcrowded" detention centre in Zuwara in western Libya. The medical NGO said detainees lacked access to food or water and were confined in conditions so cramped that people could barely lie down.
Heba Morayef, Amnesty International's Middle East and North Africa Director, said:
"The EU is turning a blind eye to the suffering caused by its callous immigration policies that outsource border control to Libya 

"The EU must stop using the Libyan Coast Guard to contain people in Libya, and instead work to close detention centres, resettle refugees in Europe, and enable UNHCR to assist all refugees across Libya.

"When European leaders spare no effort to ensure the Libyan Coast Guard intercepts as many people as possible, they are sending those migrants and refugees straight back to Libya's detention centres which are notorious for abuse and torture. 

"The EU and its member states must reset their cooperation with Libya and condition any support to Libya, financial or otherwise, on the full cooperation of the Libyan authorities to respect the rights of refugees and migrants in the country. This must start with the release of those currently held in detention centres and the end to the automatic detention of refugees and migrants."   
Amnesty is calling for all released migrants and refugees to be provided with protection and assistance while they remain on Libyan soil. The Libyan authorities should also negotiate a Memorandum of Understanding with UNHCR to recognise its status in Libya and enable it to carry out its full mandate. EU Member States must also commit themselves to an increased resettlement quota to guarantee the protection of refugees who otherwise are abandoned in Libya. 
Humanitarian evacuation
The new data on the number of migrants and refugees in detention in Libya indicates a worrying change in a trend that had previously revealed a sharp drop in the number of people in detention in Libya, following IOM-led humanitarian evacuations and returns since October. This year alone, IOM has evacuated 5,620 people from Libya as part of its "voluntary" returns programme, which offers people in migrant detention centres the possibility of returning to their home country. While this programme offers a lifeline to many, it may push people in need of international protection to return to their home country where they could face serious human rights violations.