Libya: ICC arrest warrant for army field commander welcomed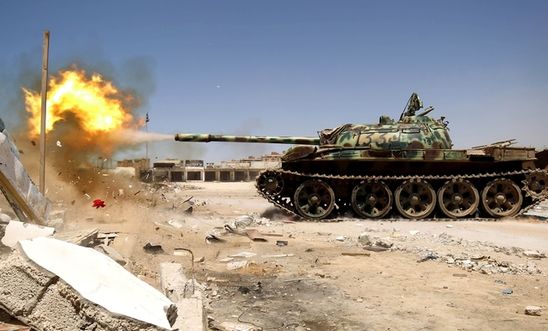 A Libyan National Army tank opening fire in a battle against insurgents in Benghazi in May © AFP/Getty Images
'Mahmoud al-Werfelli led an army unit that is accused of atrocities, including the extrajudicial executions of unarmed and defenseless captives' - Heba Morayef
ICC urged to expand its investigations in Libya 
Responding to news that the International Criminal Court has issued a warrant today for the arrest of Mahmoud al-Werfelli, who is accused of war crimes for actions committed while he was Field Commander of the Special Forces Brigade (Al-Saiqa) affiliated to the Libyan National Army, Heba Morayef, Amnesty International's North Africa Research Director, said:
"Today's decision by the ICC is a significant step towards ending the rampant impunity for war crimes in Libya. 

"Mahmoud al-Werfelli led an army unit that is accused of atrocities, including the extrajudicial executions of unarmed and defenseless captives. 

"This warrant sends a clear message that those who commit or order horrendous crimes are not above the law and will not go unpunished.

"The Libyan authorities must urgently comply with this arrest warrant and hand Mahmoud al-Werfelli over to the ICC to face his accusers in a fair trial. 

"By failing to hold to account those responsible for crimes committed in Libya in recent years, the Libyan authorities and the international community have emboldened the parties to this conflict to act with complete disregard to human life and international law. 

"We strongly urge the ICC to expand its investigations in Libya and include other crimes being committed every day throughout the country."
Amnesty continues to document violations of human rights in Libya and has previously reported on "deplorable" war crimes committed by the Libyan National Army.